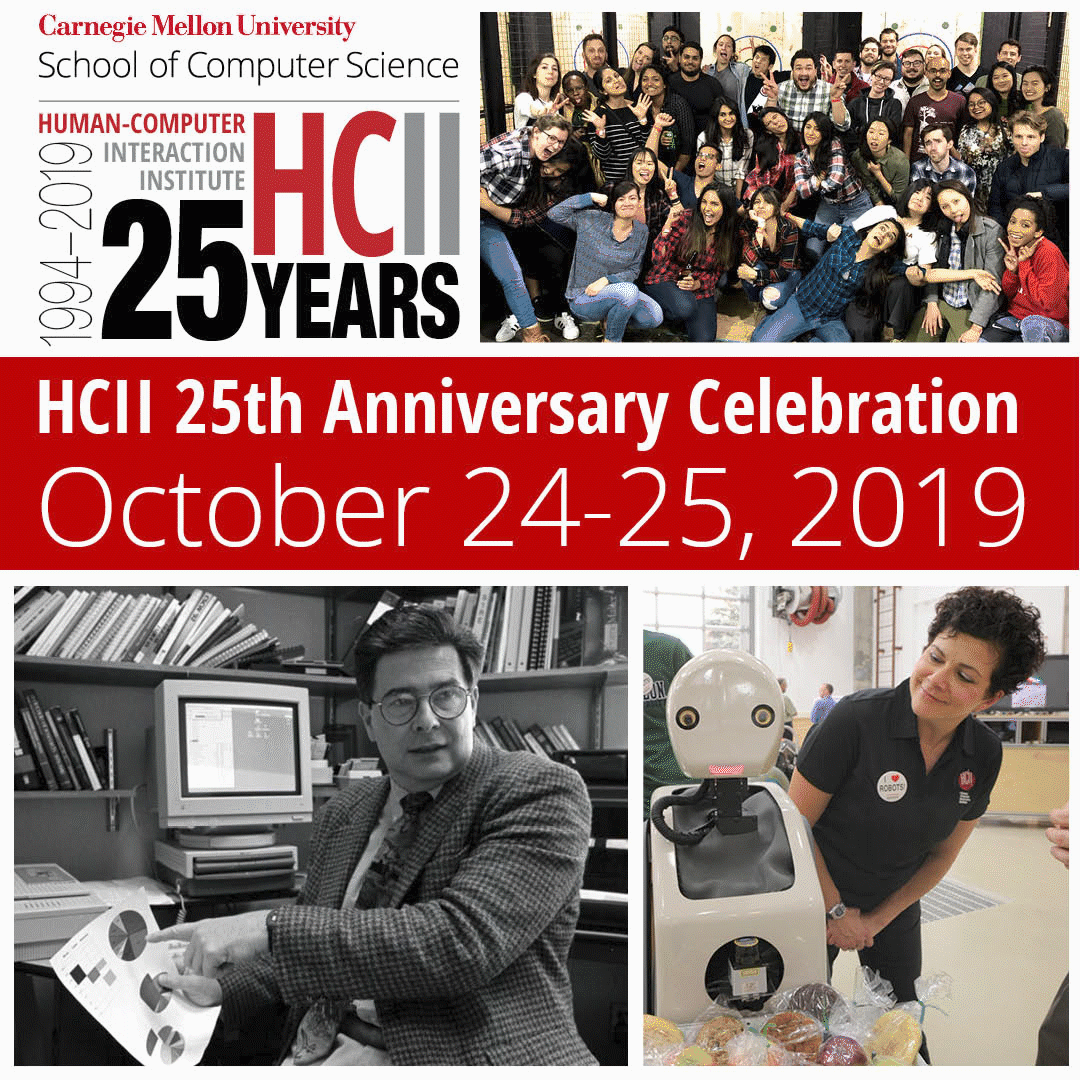 Celebrating 25 Years of the HCII
The year 2019 marks 25 years of research, education and innovation about engaging, life-transforming interactions with technology here at the Human-Computer Interaction Institute.
Join us for this 25-hour celebration as we look back to where we started and also look ahead to the future of HCI.
 
Schedule of Events:
Thursday, October 24 
12:00 - 1:30 p.m. --  Welcome Reception
1:30 - 3:00 p.m. --  Panel 1: A Historical View of the HCII
3:00 - 5:30 p.m. --  HCII Lab Tours
6:00 - 9:00 p.m. --  Cocktail Reception at the Warhol Museum (Faculty, staff, alumni, and guests only)

Friday, October 25
8:30 - 9:30 a.m. --  Breakfast
9:30 - 11:00 a.m. --  Panel 2: Human-Computer Interaction Today
11:30 a.m. - 1:00 p.m. --  Panel 3: HCI - The Future of Our Field
1:00 p.m. --  Boxed Lunch
 
Registration:
Register now to join us for the HCII 25th anniversary celebration!
Visit this event page for more information about local hotels and nearby parking options.
 
Support the HCII:
Corporate Sponsorships are now available for our 25th anniversary celebration event.
You can also support our vision for innovation and future HCI education by working with us on a sponsored research project or making a donation to the HCII. The generous support of individual and corporate donors is critical to our success as a thought leader in this area.
Contact Us:
Questions?  Contact the  hcii25 [at] cmu.edu (subject: question%20about%20HCII%2025th%20) (HCII 25 event planning committee).