Planning a getaway can be a complex process.

Nemacolin Woodlands Resort's interactive Trip Planner is a web-based, mobile-first tool that simplifies the booking experience into four easy steps. With logic based in machine learning and qualitative research, the Trip Planner provides personalized recommendations and facilitates itinerary creation, ultimately setting guests up for their dream getaway.
The Problem
Nestled on 2,000 acres in the Southwestern Pennsylvania mountains, Nemacolin Woodlands Resort is a Forbes Five-Star resort that boasts 4 hotels, 15 dining options, and more than 70 unique activities. The resort generates the majority of its revenue from activities; their wide array of options, from dog-sledding to zip lines to spa, differentiate them from competitors. However, only 50% of guests make dining and activity reservations prior to arrival. What's more, guests must make reservations for dining and activities in order to get their first choice. Guests' failure to book ahead results in a disappointing and frustrating experience during their stay.
The Solution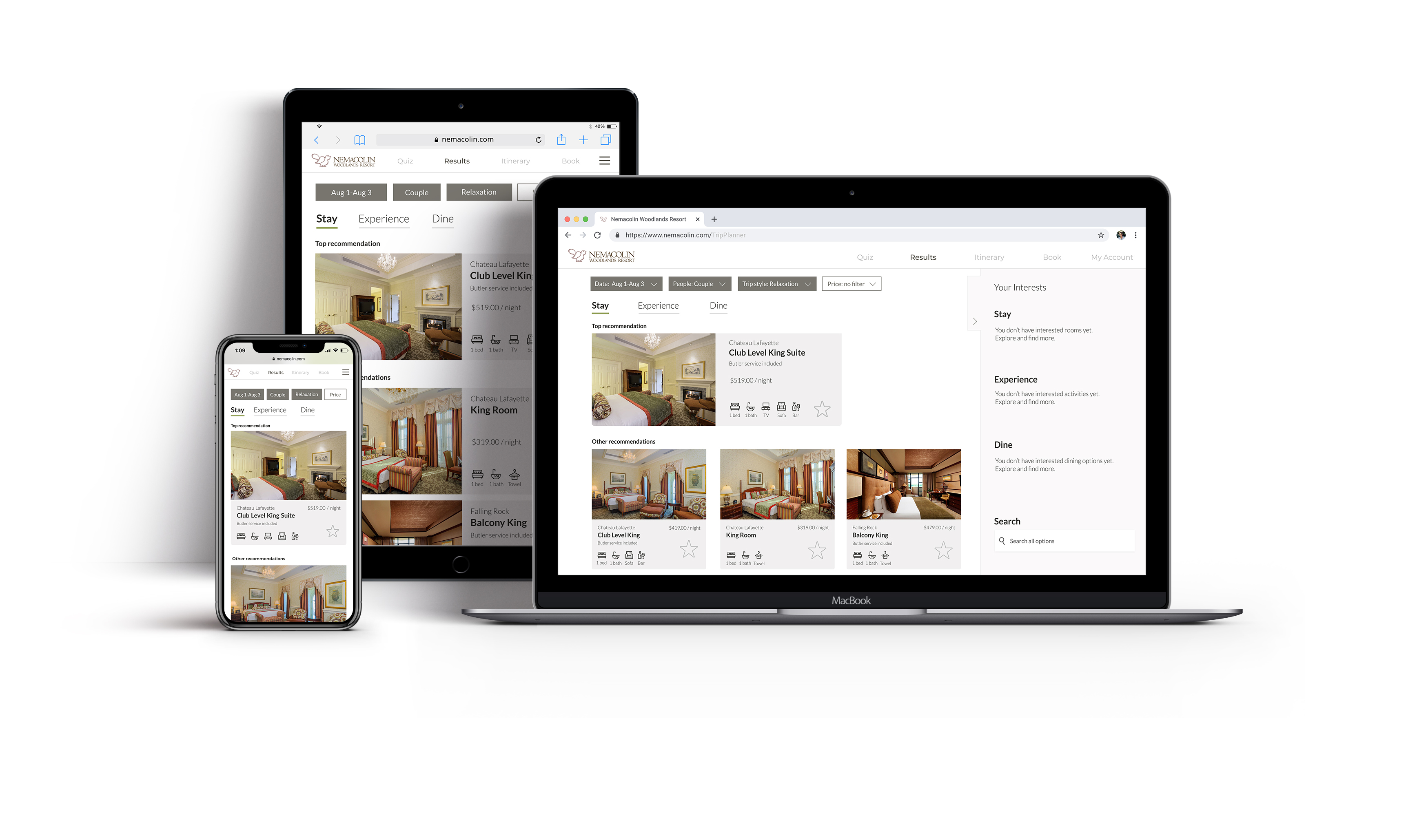 To encourage guests to book ahead, we created a web-based Trip Planner as an extension of the Nemacolin website. The logic-based tool helps guests plan their getaway in four easy steps. It recommends relevant stay, activity, and dining options to the guest based on their preferences. It also helps them plan out their trip itinerary before completing the booking all in one place. This streamlined workflow makes it easy for guests to explore the expansive offerings at Nemacolin and make reservations prior to arrival.

We tested the Trip Planner with 25 participants representative of Nemacolin's target market:
92%
of participants were highly likely to book reservations prior to arrival
42%
of participants strongly agree they would book earlier than usual
Data-Driven Approach
The Trip Planner also serves as a vehicle through which Nemacolin can gather more data about guest preferences. The Trip Planner and its logic system enables Nemacolin to build a separate centralized repository of crucial guest information. In the short term, the resort can use this data to improve their operations and targeted marketing efforts. In the long term, this annotated database will allow Nemacolin to automate manual operations and create a comprehensive machine learning recommender. With this, Nemacolin can establish itself as a cutting-edge leader in the luxury hospitality space and fully realize the resort's mission to provide something for everyone.