100% Career Placement Every Year for METALS Graduates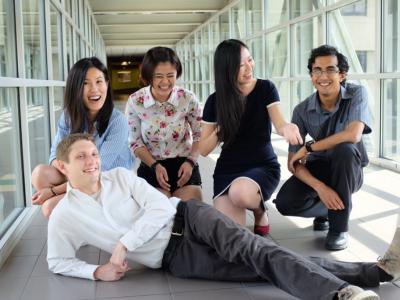 The Master of Educational Technology and Applied Learning Science degree is proud to announce that its most recent graduating cohort successfully reached 100% career placement, a statistic they have kept since the program's inception in 2013.
The program, which is a part of the Simon Initiative at Carnegie Mellon University, graduated its first class in 2014 and has been steadily growing since. Students in METALS learn from world-renowned faculty in both the Human-Computer Interaction Institute (HCII) and the Department of Psychology, exposing them to core methodologies in user experience, interaction design, cognitive and social psychology, and electives from across campus.
Graduates from the past three cohorts have experienced 100% career placement as the need for learning engineers and instructional designers continues to grow. Alumni, like 2014 graduate Mark Potter, hold strategic positions within companies such as Quora, Microsoft, Bisk Learning, Pearson and Carnegie Learning.
"I think that learning engineers and learning designers are really one of the up and coming professions. Pittsburgh is also an ideal place to be if you're interested in educational technologies," Potter said, a learning designer at Pearson.
Michael Bett, METALS program director, explained that the program was born from extensive research conducted through National Science Foundation's LearnLab and a significant gap in an evidence-based learning approach in developing products in the market.
"Employers recognize the immense value of the METALS 12-month program. Students from a variety of backgrounds learn to apply emerging technologies such as artificial intelligence, machine learning and educational data mining to scientific-based principles in education and cognitive behavior. They graduate trained as experienced problem solvers who apply evidence-based learning research to create effective instruction, educational technologies and products. These are the very skills that are highly sought after in industry."
Students spend an intensive year completing the six core courses and the seven-month capstone project, the flagship course of the degree. The capstone is setup to mimic real-world business teams, grouping students together to work directly with an industry client on a learning science business objective. Past capstone sponsor MARi recently presented their school and career coach app with their capstone team as a finalist for the Reach Higher Learning Career App challenge in Washington D.C. Other capstone clients have used the results from their METALS team to drive further product testing, implementation and patents. Example capstone projects can be found on the METALS website.
Steven Dang (METALS '15) explained his experience with the capstone project as an opportunity to apply knowledge from past classes to a real-world problem.
"The capstone was both more grounded in the demands of a real world set of students and was an opportunity for us to apply knowledge from all classes at once to a problem. I also found managing both internal group productivity and external client/manager demands and expectation to be a very valuable skill that was emphasized in the course. Coming from the defense industry, this was a very common concern that I had to develop on the job, and it was refreshing to see a master's program explicitly preparing their students with these skills."
To learn more about this innovative degree, register for an upcoming information session for the 2017 application cycle, or visit the METALS webpages. Applications for the 2017 METALS cohort close December 15, 2016.