3D Printing Summit at Carnegie Mellon University a Success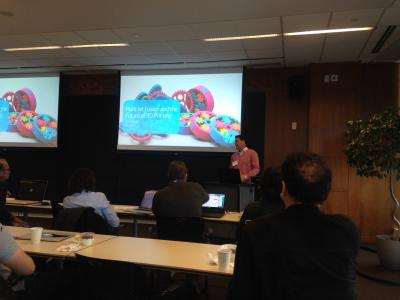 On January 10 and 11, 2017, the Human-Computer Interaction Institute (HCII) co-hosted the first 3D Printing Summit at Carnegie Mellon University. The summit represented an effort by leaders within the HCII, Software Engineering Institute, IDeATe, and America Makes to increase the accessibility of 3D printing technologies, including easier methods for design and moving from CAD to functional specification. Nine speakers both from within CMU and from external organizations led discussions among more than 60 attendees during the 2-day event.
Discussions after each speaker ranged from topics addressing sustainable and reusable material in 3D printing to unlocking the scanning and 3D modeling potential now held within our everyday cell phones.
"One of the best parts of the event was that each speaker led a discussion group after their talk," said HCII Professor Jennifer Mankoff, an organizer of the event. "To me, those discussions were the highlight of the event."
Going forward, Mankoff and HCII Professor Scott Hudson will continue to drive efforts to advance 3D printing and fabrication accessibility. The 3D Printing Summit was the first of many initiatives to draw together designers, makers and researchers in the 3D printing space and map out the future of the field both for researchers and consumers.
"Our goal is to democratize making so that a new and larger workforce can innovate and realize the exciting potential of 3D printing technologies" said Professor Mankoff.
For more information about the 3D Printing Summit or to view research projects from Professors Mankoff and Hudson and their collaborators, visit the Make4All website.