Alum Featured on Bravo's "Start-Ups: Silicon Valley"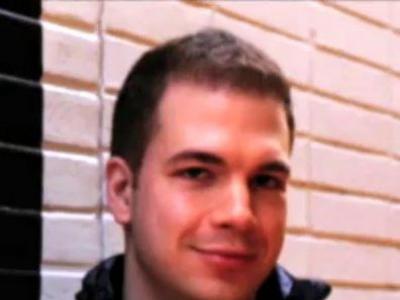 When David Murray was an undergrad at Carnegie Mellon, his friends used to kid him that he'd never find a job that combined all three of his majors—computer science and human-computer interaction (HCI) in the School of Computer Science, and voice performance in the School of Music.
Six years later, after stints with Google, Atari and Raptr and performances with Opera San Jose, he may have finally found something that integrates all of his talents: a spot on Bravo's new reality show, Start-Ups: Silicon Valley.
In the series, which premieres at 10 p.m. ET Nov. 5 on Bravo, Murray, 29, is one of six young entrepreneurs whose lives unfold before the cameras as they try to launch tech businesses. In Murray's case, that's GoalSponsors.com, a company he started six months ago that matches people with an online mentor or coach who provides daily support to help lose weight, learn a language or achieve some other personal goal.
"This has proved to be the perfect opportunity for me," Murray said, noting that being on a reality show has long been on his personal "bucket list." His start-up, of course, draws heavily on his computer science and HCI skills, while the TV show allows him to indulge his love of performing. It's not that the show is scripted, he emphasized, but neither is it exactly a documentary.
That latter point has caused a bit of a stir in Silicon Valley, where Murray has lived since graduating from Carnegie Mellon in 2006. "The video trailer Bravo has been airing makes the series look very dramatic and sensational, with women walking around in bikinis," he said. The default assumption of many denizens of Silicon Valley is that the show can't be true to life.
Though Murray has yet to see the finished episodes, he said the producers, including Randi Zuckerberg, Mark's sister, took pains to make it as realistic as possible. All of the cast are Silicon Valley entrepreneurs and were at least acquainted with each other prior to the series. The series shows them interacting, but not through a contrivance such as having everyone live together. Most of the show will focus on their individual efforts to get their companies off the ground.
Murray went to work at Google as an associate product manager immediately after graduation and has worked in a number of Silicon Valley companies since—including user experience design work at Atari for the Star Trek Online and Champions Online games and leading user experience and product teams for Raptr, a social network for gamers.
As an openly gay man, Murray won't be surprised if he is portrayed a bit flamboyantly in the series. "But I'm very optimistic that I will be seen positively and will represent my school in a positive way," he said. He has been a member of the SCS Alumni Advisory Board since his junior year and made sure he mentioned his alma mater (as well as a certain university in Palo Alto where he earned a master's degree in computer science and HCI) in on-camera interviews.
Taping of the first season of Start-Ups already is finished, so Murray now can only stand back and wait to see if viewers embrace it.
"The reality of being famous has not yet hit me," Murray said, but he won't be disappointed regardless of the reception. "Even if the show is a flop, we will have hundreds of thousands of viewers. And that's a great opportunity for me to promote my business."