Alumni Spotlight: Sandhya Pillalamarri, MHCI '05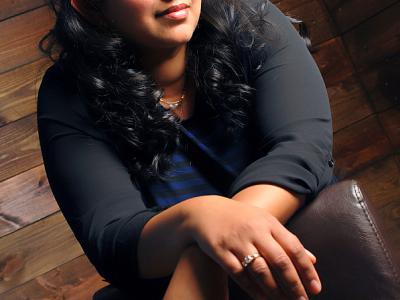 Bringing together computer science, behavioral sciences and design is a signature combination of the Master of Human-Computer Interaction (MHCI) program at the Human-Computer Interaction Institute (HCII.) It was this intersection of fields that drew Sandhya Pillalamarri to the program. Previously a software engineer by trade at HP, she felt abstracted from the product development process and sought out a way to become more involved in the overall product design decisions right from the get-go. After discovering the human-computer interaction field, she decided to return to school to strengthen her user experience skillset through the MHCI program.
As a computer scientist at that time and a product strategist at heart, one of Pillalamarri's concerns was her ability to scale up to the design requirements and expectations of the program. Rather than shy away from the steep learning curve, Pillalamarri found herself engaging in many courses from the school of computer science as well as other schools such as design and architecture, anxious to learn more about how a design-way of thinking could be applied towards overall business strategy.
A Powerful Curriculum
"What attracted me to CMU's MHCI program was its multi-disciplinary curriculum involving not just coding and CS classes in general but those of design, sociology, psychology and behavioral science also," said Pillalamarri of the classes in MHCI.
"I didn't know if I wanted to become a traditional researcher or a designer or a generalist. So I enrolled in a variety of electives such as cognitive modeling as well as typography from the design school – all of which eventually enabled me to straddle both roles perfectly."
It was after graduation that Pillalamarri fully began to apply and realize the possibilities that her expanded skillset now offered her. She spent time working with impactful companies like GE Healthcare, Pearson, Dell, PTC, JDA Software and Philips Healthcare, among others. She has led numerous products from concept to launch and holds patents in user experience design techniques.
Today, she holds the position as the Senior Director of User Experience Design at Insulet Corporation, a diabetes management company located in Billerica, MA. She is also an advisory board member for user experience at Cocolevio, a cloud technology services firm based in Austin, TX.
"I thank the CMU MHCI's strong core curriculum as well as the freedom to select interesting cross-departmental electives - because had it not been for that exposure, I wouldn't have had the deep insight to influence products in the right direction," she said.
"I have been able to combine my interests in creating amazing technology with my passion for people and business strategy - to create new value for customers."
Pillalamarri has remained a firm believer that design can serve both the people who use the technology as well as the businesses that produce them. It was this strong belief that creativity can be a powerful force at the leadership level that pushed her to also complete a master's in business administration and management from Harvard University. Pillalamarri saw the opportunity to combine design-thinking with what she calls design-doing towards the upfront, fuzzy front-end of research and create lean, iterative and rapid design and research cycles within the lifecycle of product development.
"I believe that MHCI program's core techniques for research and design synthesis enabled me to drive innovation at the core of a product roadmap at world-class organizations," said Pillalamarri.
The Power of UX in Business
One of her proudest accomplishments came from her time when she straddled a project from ethnography through ideation to production - reinforcing her belief that user experience design was the right career choice for her.
"I had the opportunity to build something truly life-changing for the customer segment that is at the bottom of the pyramid. My team and I spent time in rural parts of India observing users in the context of their environment; this type of deep-dive, ethnographic research is something companies big and small are beginning to invest it," she explained.
"We wanted to determine why the rural population in India, mostly women, were suffering from higher respiratory issues. After spending weeks interviewing and observing, we were able to identify that a lack of ventilation from cooking with coal and other bio hazardous materials was one of the primary causes of infection. Bringing back those powerful insights to the table, ideating with UI and industrial designers, working closely with finance to understand market value and pricing, we eventually had a working product that served our end-users' needs."
"Not only did this product help cut back on toxins released when cooking with hazardous materials, the women who purchased them could potentially become entrepreneurs, selling the stoves to other villages and other households. It's this cyclical, end-to-end nature of user experience that really gets me thinking and enjoying the work I do, every day."
While Pillalamarri is far from done learning herself, she does have some advice for current students. First, she emphasizes that design and research work together.
"If you are entering the field of HCI as a researcher, know that you should work closely with designers to enable great product experiences and vice versa. It is important for UX to stay closely connected to product management, marketing, sales, engineering, and finance. HCI is a truly multi-disciplinary approach to product design and development."
She also mentions that blindly translating core methodologies we learn at CMU MHCI into the working world can be at-times challenging and confusing. Pillalamarri recommends students spend time researching the domain in which they are applying the HCI techniques and processes, to better align with teams.
She also recommends staying in touch with your colleagues and ex-CMUers.
"You'll learn so much from how others are tackling similar issues in the work force. Be an active participant in the UX community and have your group of people to tap into when you need second opinions or to share ideas."
One of Pillalamarri's favorite minds to test her designs on? Her young son Srikanth Akkineni.
"When a child uses a product interface, they can easily show you what matters on the screen, what grabs their attention and what engages them. Of course, this applies to walk-up-and-use apps and other devices. Watching him interact with products I helped create is one of the reasons I work so hard – we really are innovating for the future" she added.
Pillalamarri loves to sing classical Indian Carnatic music, enjoys reading, and writing and kayaking. She is also the author of the children's book The Name Soup, available both in print and e-book format on Amazon and other major retailers.
---
Are you a Carnegie Mellon Human-Computer Interaction Institute alum? We want to stay connected! You can send us news about yourself, come to campus for a Q&A with students, or give an alumni interview. Contact us to get in touch. We want to share your news with other alumni, students, faculty, and staff. You can get more alumni news from our LinkedIn alumni group as well.