BHCI Alumnae Returns to Sponsor Capstone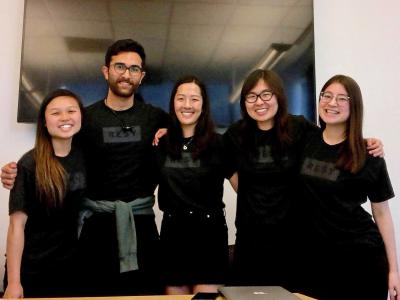 Aesha Shah had been working at the startup Resy for about a year, so the timing seemed right when she saw Professor Bob Kraut's email seeking capstone sponsors. Having completed an HCI capstone with Kraut as her advisor during her own undergraduate days at Carnegie Mellon University, she was familiar with the rigor involved with the project.
Shah, a CMU alumnae (CS + HCI, 2010) and senior product designer at Resy, returned on behalf of her employer to sponsor an undergraduate Human-Computer Interaction capstone project in the spring. The Resy app, established in 2014, uses technology to reimagine the future of hospitality of the world's best restaurants.
Each HCI capstone team consists of four or five students with a variety of primary majors, but all have an additional major in HCI. This diversity creates a strong, well-rounded group with complementary skills. The students on Team Resy worked on extending the functionality of the Resy reservation app with features that diners desire. To understand how mobile technology could enhance the dining experience, the students interviewed foodies, waiters, restaurant managers and even observed diners in restaurants in addition to reviewing literature and conducting a competitive analysis. They identified opportunities when diners are initially making their reservations, during the meal itself and at the time of payment. They also identified potential pitfalls, with one example being that diners found the use of cell phones at a high-end restaurant both distracting and tacky. The students built on these observations to create and test a high-fidelity prototype that allowed diners reserving through Resy to plan the logistics of their meal with other guests.
According to Kraut, these students did amazing work. "They were systematic, comprehensive and creative in approaching understanding the dining experience and developing solutions. I was impressed with their hard work and professionalism. And, as a foodie myself, I could see how the application they developed for Resy could make going out to eat more fun and efficient."
The capstone project partnership benefited both the CMU students and the Resy team.
"Working with Resy, we learned the importance of flexibility in scoping a project and its solutions, balancing personalization with ubiquity in design, and reimagining what existing industry spaces could look like, all within the context of Resy's rapidly-growing environment," said team member Jade Schiffer, a decision science and human-computer interaction major. "We're proud of the work we did, and we're grateful not just to have learned from each other, but also to have had the invaluable opportunity to learn from our advisors, Professor Bob Kraut and Instructor Steven Dang, who guided us to think big, work smart, and trust our user data in order to design to enhance user experiences."
Shah was the first product designer with an HCI background to join the startup company. Working with the dedicated team of five students helped her to build a design culture as well as raise awareness of the depth of process behind iterative design.
"Working with the students helped to spread visibility of the new design role and got people in the right mindset to get into this space," said Shah.
When it came to the students' work, Shah said they were self-sufficient and needed minimal direction. "HCI is a very well respected program," said Shah. "It was very CMU. The students were very good, very professional. They're on top of everything, it was amazing."
The students also benefited from the real-world experiences they received from working with a startup company. Over the course of the semester, students worked with Shah and her colleague the product manager on both the design and business elements of the product. This gave the students multiple perspectives and different kinds of feedback, which is how things would play out in the workplace.
Students also had the opportunity to work with a few of Resy's restaurant partners. "I hope that it was fun for the students to speak to our restaurant industry experts. They got to have conversations with the restaurants to give them the right perspective of how to think about the problem. A lot of their initial assumptions changed after they spoke to the restaurants," Shah said.
All of the weekly team meetings throughout the semester occurred virtually, but Schiffer was able to visit the Resy headquarters over spring break while at home in NYC.
"Aesha set up a great visit itinerary for me, starting with a tour of the office, continuing with introductions to everyone on the floor, and ending with sharing some dessert in the kitchen and chatting with our primary contacts in the NYC office about the work the Pittsburgh team had been doing and what new things were on the horizon for Resy. Visiting the office gave me the opportunity to see the tangible impact our project work would have after BHCI Capstone ended, and I returned to Pittsburgh with not only stories to tell but also matching Resy t-shirts for CMU's Team Resy and our advisors, Professor Bob Kraut and Steven Dang!"
At the conclusion of the project, Shah arranged for the students to present their research to the executive team, the heads of product, marketing, legal, and the founders of Resy via Google Hangouts.
"You don't always get the opportunity to talk or present to executive leadership even if you're working at a company. The students presented for me first, and I gave them feedback. They took that feedback really positively and polished their presentation skills. The students were such high caliber that the executive team was asking, 'Those guys are students?'," recalled Shah.
"I had been disconnected for a while but it was nice to reconnect with campus," said Shah. "The HCI program is close to my heart and it opens doors."


About the HCII Undergraduate Capstone Project:
Capstone projects are mutually beneficial for the sponsors as well as for the CMU HCII students. Our sponsors gain hundreds of hours of skilled research and development, while students gain invaluable practical experience by applying their skills to a real-world project along with feedback from faculty experts. Sponsoring an undergraduate HCI capstone project is free of charge but requires a weekly time commitment from the sponsor. If you think you might have a project that could benefit from the expertise of our students, please contact us.
Resy Capstone Spotlight:
Course Faculty:
Robert Kraut, professor
Steven Dang, instructor
Client Sponsor: Resy
Client Liaison: Aesha Shah, Senior Product Designer at Resy and CMU alumnae (CS + HCII, 2010). Her own undergraduate capstone project was sponsored by internal CMU client Tech Bridge World, an educational game used to prepare CMU students to go to Tanzania by teaching them about cultures and norms.
Resy Student Team:
Emily Su (Information Systems and Human-Computer Interaction, class of 2018)
Zeeshan Rizvi (Business Administration and Human-Computer Interaction, class of 2018)
Jennifer Chou (Computer Science and Human-Computer Interaction, class of 2018)
Adella Guo (Design and Human-Computer Interaction, class of 2018)
Jade Schiffer (Decision Science and Human-Computer Interaction, class of 2018)