Carnegie Mellon Names Jodi Forlizzi HCII Director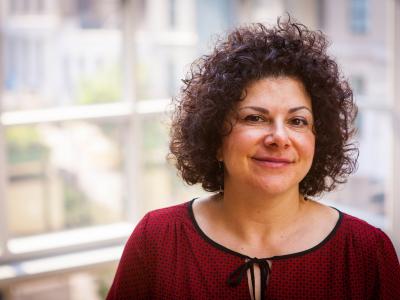 Andrew Moore, dean of the Carnegie Mellon University School of Computer Science, has appointed Jodi Forlizzi as the new Charles M. Geschke Director of the Human-Computer Interaction Institute (HCII), where she has been a faculty member since 2000.
Forlizzi, who earned a self-defined Ph.D. in human-computer interaction and design at CMU, specializes in interaction design and has also served on the faculty of CMU's School of Design.
"Jodi has repeatedly demonstrated with significant effectiveness her clear perspective on the important role HCII plays for all of SCS and for CMU more generally," Moore said. "I have no doubt that during this critical decade — when advanced technology will change the rules of the game for everyone — we will succeed or fail based on the extent to which we incorporate technology to understand, assist and educate people, and base our design for the future on clear humanistic principles. Jodi is the perfect person to lead our efforts in this area."
Forlizzi designs and researches systems ranging from peripheral displays to social and assistive robots. Her current research interests include designing educational games that are engaging and effective, designing services that adapt to people's needs, and designing for healthcare.
She is a member of the Association for Computing Machinery's CHI Academy, a group of researchers who have been judged by their peers as having made significant, cumulative contributions to the development of the HCI field. She has been honored by the Walter Reed Army Medical Center for excellence in HRI design research. She also has consulted with Disney and General Motors to create innovative product-service systems.
Forlizzi earned a bachelor's degree in illustration from the University of the Arts in Philadelphia and a master's degree in interaction design at Carnegie Mellon.
The HCII explores such topics as technology design and usability, educational technologies, and research on how people work, play and communicate. Part of Carnegie Mellon's School of Computer Science, the HCII hires faculty and trains students at the intersections of computer science, design, cognitive science, social psychology and other areas across the disciplines.
Carnegie Mellon faculty members have been leaders in human-computer interaction since the late 1960s and continue to be among the most influential researchers in the field. The HCII was the first to offer a Ph.D. program in human-computer interaction.
The HCII directorship was endowed in 2012 by Charles M. Geschke, a CMU alumnus and co-founder of Adobe Systems Inc., and his wife, Nancy.