Celebrating Our Recent PhD Graduates and Postdocs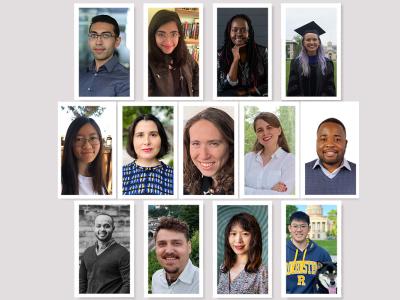 With another academic year behind us, it is time to wish a new class of graduates well on their professional journey. The HCII is proud to celebrate our recent PhDs and Postdocs as they begin their next roles in the tech industry and academia as researchers, startup founders, postdocs and faculty.
"One of the most rewarding aspects of being a professor is watching as our students and postdocs develop as researchers and leaders in their individual research areas. We are proud of their accomplishments while they were here with us at the HCII and we celebrate the excellent places where these students and postdocs are going next," said Brad Myers, HCII Charles M. Geschke Director and Professor.
"To our graduates: please keep the HCII in mind for any future opportunities for collaborations and support, and do keep in touch so that we can continue to follow your amazing careers," Myers said.
As these HCII PhDs and postdocs move to their next roles, they will be joining a strong CMU HCII network with 1000+ alumni located around the world.

Recent HCII PhD Graduates
Karan Ahuja
Lisa Wissner-Slivka and Benjamin Slivka Assistant Professor in Computer Science
Northwestern University
"I will be recruiting graduate students for Fall 2024! Interested in Machine Learning and Sensing, Ubiquitous Computing and Interaction Technologies - let's connect!"
https://karan-ahuja.com/

Prerna Chikersal
Machine Learning Scientist II
Tripadvisor
https://prernaa.github.io/

Lynn Kirabo
Maria M. Klawe Assistant Professor of Climate and Computer Science
Harvey Mudd College
https://www.kirabo.io/

Yasmine Kotturi
Postdoctoral Associate
Human-Computer Interaction Institute
Carnegie Mellon University
After graduating from the HCII PhD program, Yasmine started a 2-year postdoc last fall with HCII Associate Professor Jeff Bigham. Yasmine intends to go on the job market this fall.
https://ykotturi.github.io/

Tianshi Li
Assistant Professor (starting in Fall 2024)
Khoury College of Computer Sciences
Northeastern University
Tianshi will be recruiting PhD students for Fall 2024. Prospective students interested in privacy and HCI research are welcome to reach out!
https://tianshili.me/

Judeth Oden Choi
Partner
Writ Large Projects
"The county has just accepted our bid for a building in Braddock where we are opening a bookstore, coffee shop, media lab and community center where we will eventually have education and professional development programs."
https://www.writlargeprojects.com/

Samantha Reig
Assistant Professor (starting in September 2023)
Miner School of Computer & Information Sciences
University of Massachusetts Lowell
https://samreig.com/

Stephanie Valencia Valencia
Assistant Professor
College of Information Science
University of Maryland, College Park
Stephanie will be starting a lab dedicated to building accessible technologies that are grounded in behavioral theory, co-designed with people with disabilities, and deployed to users for impact. She's actively looking for students and collaborators to connect.
https://stephanie-valencia.com/
Recent HCII Postdocs
George Hope Chidziwisano
Assistant Professor
University of Tennessee, Knoxville
https://www.hopechidziwisano.com/

Devansh Saxena
Presidential Postdoctoral Fellow, HCII (present)
Assistant Professor (starting Fall 2024)
Information School
UW-Madison
Devansh just started as an HCII postdoc on May 30, but has already accepted a position in ethics of computing, data, and information sciences starting in Fall 2024. It's part of a cluster hire with Computer Science, Philosophy, and the Holtz Center for Science, Tech & Society. Devansh's work focuses on designing for responsible AI innovation practices and human-AI collaboration. He is recruiting graduate students for Fall 2024.
https://devsaxena.info/

Craig Shultz
Assistant Professor
Electrical and Computer Engineering
University of Illinois at Urbana-Champaign (UIUC)
"I have accepted a position with UIUC, starting next year. I'm also a co-founder and CTO of Fluid Reality, a startup commercializing my research at CMU."
https://www.craig-shultz.com/

Meng Xia
Assistant Professor
Department of Computer Science & Engineering
Texas A&M University
"Howdy! Thrilled to join the Department of Computer Science and Engineering as a tenure-track Assistant Professor in Jan 2024! Can't wait to build a cutting-edge lab on HCI, data viz & ed tech and collaborate with the vibrant community. Seeking passionate students to join! Grateful for the support from CMU!"
https://www.xiameng.org/

Yukang Yan
Assistant Professor
Department of Computer Science
University of Rochester
https://yukangyan.info/
We asked all of our graduating PhD students and postdocs where they are heading next, and while it's possible that we didn't hear back from someone, this collection from spring 2023 is complete to the best of our knowledge.