Digital Exhibit Labels: Enhancement or Distraction for Museum Visitors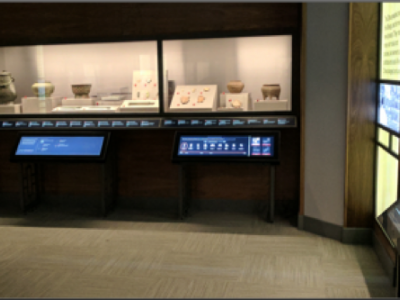 Does a touchscreen display distract visitors from the cultural museum artifacts it supports?
A team of learning scientists and computer scientists collaborated with museum curators to analyze the role of digital display technology in visitor learning in a collections-based exhibit.
Jessica Roberts, lead author and postdoctoral research fellow at the HCII, began the work while a postdoctoral researcher at Northwestern University with Michael Horn, Steven McGee, and colleagues at the TIDAL Lab. They will present results of the "Digital Exhibit Labels in Museums: Promoting Visitor Engagement with Cultural Artifacts" paper, which won an Honorable Mention award, at CHI on Monday, April 23, 2018.
In June 2015, The Field Museum of Natural History in Chicago opened a 7,500 square-foot exhibit showcasing 350 artifacts from prehistoric times to early 20th century China. The museum incorporated 45 touchscreens (called "digital rails") into this exhibit to convey interpretive content about the artifacts.
A digital rail is essentially a higher-tech version of a traditional text label. Although meant to provide supporting information, these small interactive computers can also impact the visitor experience.
As mentioned in the paper, "The central design tension with these displays is to harness the engagement of interactive media in a way that enhances (rather than detracts from) visitor appreciation of the authentic artifacts on display."
The study focused on the Bronze Age Innovations display, among the least visited of the more than 45 digital rails in the exhibit.  
Through observations, video analysis, and tracking of 834 museum visitor groups, the team investigated how three different iterations of the digital rail interface design impacted visitor engagement with exhibit artifacts. They compared the original informational interface to two variations, Big Questions and Timeline, which were strategically designed to spark visitor curiosity, interest, and engagement.
Their measurements included capture and hold rates, dialogue visitors produced as they used the rail, and patterns of interaction with the touchscreens.
Roberts states, "Interactive displays are becoming commonplace in museums today, both as the exhibit itself and in the supporting role of digital label. We have quite a bit of research showing how to create engaging and effective technology-based museum exhibits, but we don't yet have empirical evidence, theoretical models, and design principles for designing technology to play this supporting role. This paper examines the tradeoffs for visitor experiences with each of our three designs, highlighting the tensions of designing technologies that mediate interpretation of authentic objects in an exhibit, without overshadowing those objects."
Roberts' research focuses on human-data interactions and how learners make sense of complex information and visualized data in informal learning contexts like museums. She hopes to better understand how we can design technologies and data interactions that help learners become active rather than passive consumers of data.
Honorable Mention at CHI 2018:
"Digital Exhibit Labels in Museums: Promoting Visitor Engagement with Cultural Artifacts"
Jessica Roberts, Northwestern University; Carnegie Mellon University

Amartya Banerjee, Northwestern University

Annette Hong, Northwestern University

Steven McGee, The Learning Partnership

Michael Horn, Northwestern University

Matt Matcuk, The Field Museum