Five SCS Students Named Siebel Scholars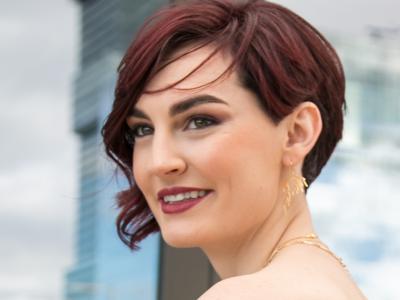 The Siebel Scholars Foundation announced that five School of Computer Science graduate students – Brandon Bohrer, Rogerio Bonatti, Megan Hofmann (pictured), Hsiao-Yu Fish Tung and Lijun Yu – are among the 2021 recipients of the Siebel Scholars award.
Now in its 20th year, the program recognizes almost 100 students annually from the world's leading graduate schools of computer science, as well as business, energy science and bioengineering. It supports students in their final year of study.
"This year's class is exceptional, and once again represents the best and brightest minds from around the globe who are advancing innovations in healthcare, artificial intelligence, the environment and more," said Thomas M. Siebel, foundation chairman.
Bohrer is a Ph.D. student in the Computer Science Department who earned his undergraduate degree in computer science at CMU. He is studying formal verification of cyberphysical systems, developing mathematical methods that can guarantee the safety of software that controls physical systems.
Bonatti is a Ph.D. student in the Robotics Institute. His research focus is at the intersection of machine learning theory with motion planning, where he creates methods for robust robot intelligence in real-world settings. Rogerio's work has been deployed in multiple applications, ranging from autonomous cinematography with aerial vehicles to drone racing.
Hofmann is a Ph.D. student in the Human-Computer Interaction Institute. Her research has focused on the intersections of digital fabrication, healthcare and disability justice. She has developed new generative design frameworks that support makers in healthcare settings and has contributed to the burgeoning field of algorithmic machine knitting.
Tung is a Ph.D. student in the Machine Learning Department. She is interested in building machines that can understand and interact with the world. Her research spans across unsupervised learning, computer vision, graphics, robotics and language.
Yu is a master's student in the Language Technologies Institute. His research focuses on improving public safety by understanding surveillance videos in 3D. His work has included a video-based traffic danger recognition system for detecting car crashes so first responders can be alerted and a system for spotting suspicious behaviors in surveillance videos.
Byron Spice | 412-268-9068 | bspice@cs.cmu.edu