Forbes Names Guo Among '30 Under 30' Outstanding Young Scientists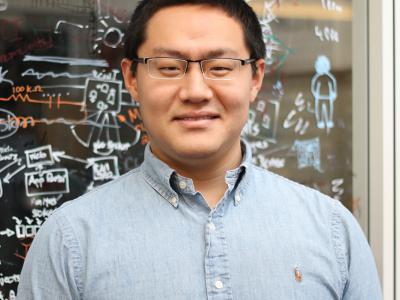 Anhong Guo, who recently completed his Ph.D. in the Human-Computer Interaction Institute (HCII) and next month will join the University of Michigan faculty, was named to the 2021 Forbes "30 Under 30" in science for his work on combining human and artificial intelligence to make visual information more accessible.
Guo, who was advised by the HCII's Jeff Bigham, led such projects as StateLens, a system that used reverse engineering and a hybrid crowd-computer vision pipeline to make existing dynamic touchscreens more accessible to people with visual disabilities. He was first author of a 2019 paper on AI fairness that examined how widely deployed AI systems may not work properly for people with disabilities and may actively discriminate against them.
His work on human- and AI-based camera sensing became part of the CMU spinoff Zensors, which employs computer vision to make smart and reactive spaces.
During his studies at the HCII, Guo was a Swartz Innovation Fellow and a Snap Inc. Research Fellow. He will join the University of Michigan as an assistant professor of computer science and engineering.
The Forbes 30 Under 30 feature for 2021 highlights a total of 600 entrepreneurs, activists, scientists and entertainers in 20 categories.
For More Information
Byron Spice | 412-268-9068 | bspice@cs.cmu.edu