Four from HCII Receive Google Faculty Research Awards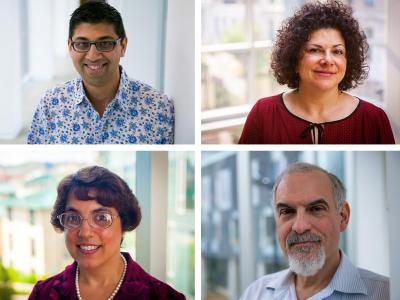 Selected from more than one thousand proposals, four faculty members from the Human-Computer Interaction Institute have received 2017 Google Faculty Research Awards. Google hopes these collaborative relationships with world-class computer science faculty researchers will impact how future generations use technology, benefiting both the researchers and Google.
A total of 152 projects, or 15 percent of the proposals, survived the highly competitive Google-wide selection process and received funding this year.
HCII faculty award winners and their proposals include:
The 1033 proposals originated from 46 countries and more than 360 universities. In addition to the four from the HCII, eleven more of the 2017 Google Faculty Research Award recipients are from other areas of Carnegie Mellon University.
Faculty members can apply for up to $150,000 USD seed funding, but most awards are funded at the amount needed to support one graduate student for one year. Each Faculty Research Award gives both the winning faculty member and the graduate student the opportunity to work directly with Google researchers and engineers.
Learn more about the four projects at the HCII receiving support from the Google Faculty Research Awards.
"Supporting Complex Search on Mobile Devices"
Aniket Kittur, Cooper-Siegel Associate Professor, Human-Computer Interaction Institute
Complex search tasks ranging from researching consumer purchases, health information, scientific literature, or trip planning account for 70 billion hours of effort per year in the U.S. alone. However, the characteristics of mobile device usage -- including limited screen real estate, short bursts of use, frequent interruptions, difficulties in saving and organizing information, and loss of context -- pose serious challenges for accomplishing these tasks. With more searching now happening on mobile devices than on desktop devices and large populations of mobile-only device users, these challenges will only continue to grow in importance. In this proposal, Kittur re-frames complex information-seeking challenges in a mobile context as an opportunity for rethinking the way users navigate and manage online information. To further explore this, the team will introduce a new platform for sensemaking on mobile devices and use it to investigate the challenges and opportunities involved.
Kittur is now a three-time Google Faculty Research Award recipient (2013, 2015, 2017).
"Collaborative Physics in the Google Study Buddy Network"
Carolyn P. Rose, Professor, Language Technologies Institute and Human-Computer Interaction Institute
Locally, this project will support research on increasing the adaptivity of the Bazaar architecture for dynamic support of collaborative learning using deep reinforcement learning. However, discussions with Google's Central EDU team are ongoing in order to explore how research in computer-supported collaborative learning might enhance social aspects of use of Google products more broadly, especially for learning and teaching. Rose recently visited Google in New York to give a talk about her research and discuss with a variety of project teams about potential connections, and they are still at an exploratory stage with that.
"Collaborating with Ubiquitous Intelligent Agents and Robots"
Jodi Forlizzi, Charles M. Geschke Director and Professor, Human-Computer Interaction Institute
This proposal looks to the near future, one full of ubiquitous agent-robots where robots and intelligent agents interact with people across many different physical settings. In such an innovative research area, there are many questions yet to be explored, including thoughts like these: Should a Google Assistant drive my driverless car and interact with me on my phone? If I interact with Google Home at someone else's home, is it my Google Home? Should it be? Am I leaving personal information behind? Forlizzi collaborates with Aaron Steinfeld, associate research professor at the Robotics Institute, and John Zimmerman, professor with the HCII, on this research. The team will investigate how intelligences should appear in multiple re-embodiments and across robotic forms ranging from tabletop to social to screen-based agents to robots in the context of work, and others. They will also explore how context should be inferred as representations move from device to device by using design methods, including scenario development, robot and agent instantiation development, and user enactments to elicit responses to technology that does not yet exist.
"Studies and Tools for Improving the Usability of Google's APIs"
Brad A Myers, Professor, Human-Computer Interaction Institute
Myers began a close collaboration with Google through a faculty research award last year (2016), to better understand how to evaluate and improve the usability of APIs. This collaboration, which has already generated two co-authored papers and significant new shared knowledge, will now continue for a second year and further investigate how APIs can be improved. With the support of the second award, Myers will focus on new APIs, such as for artificial intelligence and big data, and detecting API issues by mining software repositories and through analysis of programmer editing logs when using libraries. They also propose to research new tools for automatic evaluation of APIs.
Learn more about all of the Google Faculty Research Awards, as well as see past recipients back to 2005, in the Google Research blog.