Four Receive Google Faculty Research Awards in HCI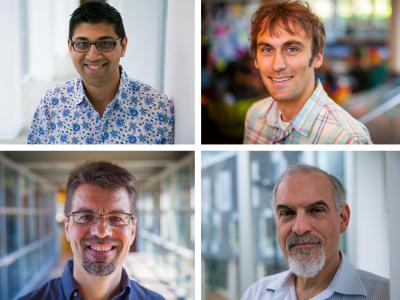 Four faculty members from the Human-Computer Interaction Institute have received 2018 Google Faculty Research Awards.
Google seeks to identify and strengthen long-term collaborative relationships with world-class computer science faculty researchers in areas of mutual interest. The goal of these collaborations is to impact how future generations use technology.
Two of the HCII faculty award winners are continuing work related to their Google Faculty sponsored projects from last year, including: improving the usability of Google APIs by Brad A. Myers and complex searching on mobile devices by Aniket Kittur. The other two sponsored HCI projects include scaling teacher expertise by Ken Koedinger and accessibility work by Jeff Bigham.
Learn more about the projects at the HCII receiving support from the Google Faculty Research Awards this year.
Brad Myers - "Studies and Tools for Improving the Usability of Google's APIs"
Myers has been collaborating with the Google Cloud Group since 2016. This year, Google is funding two projects about APIs (application programing interfaces) in order to better understand how to evaluate and improve their usability.
For one project, Myers will be applying human-computer interaction (HCI) techniques to analyze an API with a reputation for being difficult to use. The work will explore several avenues, including identifying what makes the API problematic, the discoverability of the API, and also mapping the mental models of the programmers using the API. The other project, in collaboration with Bogdan Vasilescu of CMU ISR, takes a different approach to evaluate API usability. They will look through existing code using a "mining software repositories" approach, to identify signs of things that might be potentially problematic or annoying for the programmer.
Niki Kittur - "Supporting Complex Search and Sensemaking"
"Complex search tasks ranging from researching consumer purchases, health information, scientific literature, or trip planning account for 70 billion hours of effort per year in the U.S. alone. However, the characteristics of mobile device usage -- including limited screen real estate, short bursts of use, frequent interruptions, difficulties in saving and organizing information, and loss of context -- pose serious challenges for accomplishing these tasks. With more searching now happening on mobile devices than on desktop devices and large populations of mobile-only device users, these challenges will only continue to grow in importance. Capturing even a fraction of this effort could ignite a virtuous cycle in which people and AI could benefit from the rich mental structures created by others, rather than starting from scratch every time."
Kittur will be building on the insights gained during the previous award. They will now move on to developing a new platform that reduces the costs of making sense of the web and using that to investigate the challenges and opportunities involved.
Ken Koedinger - "Scaling Expertise Transfer: Teachers create intelligent tutors by tutoring"
How can it be easier for experts in some domain to help others to become experts? Koedinger proposes a method for scaling this expertise transfer.
"The idea is that one expert tutors a computer in the domain and then that computer can tutor an unlimited number of students. Our prior research and development has demonstrated the core functionality needed to acquire (and teach) symbolic expertise within domains of math, science, and language. Two major R&D goals are to develop a tablet-based application that is natural and easy enough for non-programmer experts to tutor the computer and to extend our machine methods to learning diagrammatic skills, as in geometry. We propose to pursue these ambitious goals by developing a demonstration system, SmartSheet, whereby teachers can easily build electronic math worksheets that provide students with adaptive tutoring support on their homework or in class activities. To create this tutoring support, teachers need only engage in a bit more effort than writing problems on a tablet and way less effort than they usually spend on grading."
First year Ph.D. student Danny Weitekamp will be collaborating with Koedinger on this work.
Jeff Bigham
"This award will support our ongoing work to use computer vision and crowdsourcing to make the world more accessible to people with visual impairments. Google has generously funded this line of work from our early work on the VizWiz system for answers to visual questions, to our work turning building our VizWiz dataset of visual questions to challenge the computer vision community, to now funding this work to help people who are blind better use the inaccessible devices that they encounter in the world," said Bigham.
About the award:
Only 15 percent of the proposals survived the highly competitive Google-wide selection process. In addition to the four from the HCII, eight more of the 2018 Google Faculty Research Award recipients are from other areas of Carnegie Mellon University.
Faculty members can apply for up to $150,000 USD seed funding, but most awards are funded at the amount needed to support one graduate student for one year. Each Faculty Research Award gives both the winning faculty member and the graduate student the opportunity to work directly with Google researchers and engineers.
Learn more about all of the Google Faculty Research Award subject areas, as well as see past recipients back to 2005, in the Google Research blog.