Gaming for good, first-time HCII team raises over $5,000 for the kids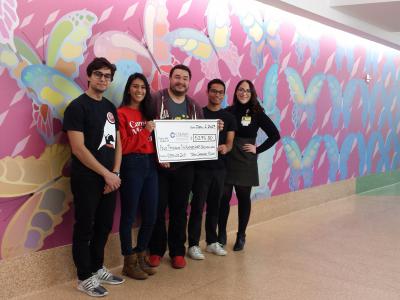 Team "Carnage Melon" had lofty goals for its first time participating in the Extra Life charity gaming marathon, but it unlocked the $5,000 badge with an hour to spare.
The group started fundraising only a week before the Extra Life "Gaming Weekend" of November 4 and 5, and they still achieved their goal of raising $5,000 for their local Children's Miracle Network hospital, Children's Hospital of Pittsburgh. Congratulations to the team on their final total of $5,295.
"Raising $5,000 in one week is an outstanding accomplishment, and we are so grateful to the HCII team for their hard work and innovation in raising money for our kids," said Gina Marcocci, development coordinator of corporate and community giving at Children's Hospital of Pittsburgh Foundation.
This is the first time a group from the Human-Computer Interaction Institute has participated in the 24-hour gaming marathon fundraiser, which just happened to be a 25-hour marathon due to Daylight Savings Time. About 70 students, faculty and staff stopped by in person during the event to show their support and play some games, while almost 900 tuned in to their live Twitch stream online.
Behind the scenes, team Carnage Melon came together thanks to the work of a few dedicated people from the masters in human-computer interaction (MHCI) program.
Current MHCI student Radha Nath took the lead in organizing the event, and liked the way everything came together, including seeing people take a break from their work to have fun. "Being in MHCI, there's no shortage of stress, and the upcoming week in particular had a lot of deadlines and exams. I heard many comments, like 'This is just what I needed' and 'This is so nice, we should do this more often.' I was really happy to be a part of creating that experience!"
"It was great to see the waves of supporters and participants flow in over the 25 hours, in-person and online, unified by our love of gaming to make a difference at Children's Hospital," said Executive Director of the MHCI program, Lee Hillman, who voluntarily stayed awake for the entire event.
The Carnage Melon team organized signed ups before the event to make sure that someone would be playing on the Twitch stream during all hours of the event. MHCI student Cameron Erdogan stayed for the entirety of the event and tended to the stream each hour as the gamers changed. His favorite moment from the weekend was playing the game Cuphead in front of a crowd of 30 people, which was a favorite moment of other students as well.
"Cuphead really got the entire room cheering or groaning with every victory and failure," said MHCI student Zohaib Khan as he reminisced about his classmates playing Cuphead. "Cameron and Lisa were playing Cuphead (an unforgiving game) and managed to beat a level they had attempted over 50 times. Seeing Aishwarya, who isn't a gamer by any stretch of the imagination, emotional and almost crying tears of joy was amazing."
While the more experienced gamers were playing on the Twitch stream, some others in the room were enjoying their first attempt at Mario Kart. Other gamers, including Geoff Kaufman, assistant professor of HCII, gathered to play tabletop games in the lab.
"When Radha Nath and Brooke Sachs approached me about participating, I jumped on board immediately," Kaufman said. "Given the important role that games play in both the work and social life of the HCII, Extra Life was a perfect choice as a fundraising platform for the department, and the MHCI team did such an amazing job pulling it all together. The fact that I got to hang out and play board games all afternoon with some of our awesome students made it all the more worthwhile for me personally!"
Financial support for the Carnage Melon team came from Carnegie Mellon faculty, staff, alumni and friends from around the world.
"HCII faculty and alumni were watching the Twitch stream, donating, cheering us on through social media -- that was awesome," said Nath. "Jason Hong, our Programming for Usable Interfaces professor, even congratulated us in class on Monday, which was a nice way to start off the week. He mentioned that he watched the stream and called out specific instances of people playing Mario Kart, Super Smash Brothers, and One Night Ultimate Werewolf."
The group turned to social media to get the word out about the fundraiser, including frequent posts, a Facebook Live video on Saturday night, and special incentives for alumni to donate. More than two-thirds of the donations received were $50 or less, which shows the incredible impact that small gestures can have when they come together.
More about Extra Life
Nearly $107,000 has been raised for Children's Hospital this year through Extra Life, making this a record-breaking year in the Pittsburgh market. Extra Life fundraising helps to support the most urgent needs of Children's Hospital of Pittsburgh of UPMC – needs that insurance does not cover, but that make the hospital a special place of hope and healing for patients and families. From providing vital funding for medical equipment to educational assistance and support for families adjusting to illness and hospitalization, each contribution makes a significant difference! Learn more about how the funds raised will make a positive impact at the hospital.