Gaming for good, HCII team prepares for 24-hour gaming marathon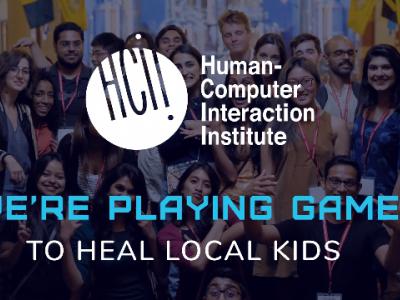 From 9:00 a.m. on Saturday, November 4, until 9:00 a.m. on Sunday, November 5, someone from Carnage Melon will be awake and playing a game at the MHCI Lab in Pittsburgh, Pa.
No, that wasn't a typo. Carnage Melon is the team name for a group of students, faculty and staff from the Human-Computer Interaction Institute planning to join the thousands of participants in the official 24-hour Extra Life gaming marathon next weekend. Established in 2008, Extra Life has raised more than $30 million for sick and injured kids at Children's Miracle Network hospitals.
Each year, more than 10 million kids in North America enter a children's hospital, and thanks to the Children's Miracle Network, every child will be taken care of regardless of insurance or ability to pay. Team Carnage Melon will be gaming on behalf of our local CMN hospital, the Children's Hospital of Pittsburgh of UPMC. Offering quality care right in our backyard, Children's was just named to the top ten list of America's Best Children's Hospitals by U.S. News & World Report for the eighth year in a row.
Lee Hillman, executive director of the master's of human-computer interaction (MHCI) program, pitched the idea of participating to the MHCI students after seeing other gaming sites participate in previous years. "The students responded with overwhelming enthusiasm," said Hillman, who shares the students' enthusiasm for the cause and plans to stay up for the entire 24 hours. "This charitable gaming event has great overlap of many elements core to the HCII mission. Gaming has always been a place where emerging technologies can experiment, and this fundraiser leverages social technologies to deliver positive action in the world."
MHCI student Radha Nath quickly took the lead on assembling a team and coordinating the event. "Community service has always been a part of my life, so it's something I hold near and dear to my heart," said Nath. "I've volunteered in a Children's Hospital before, so anything I could do to help out and give back is an opportunity I'd be happy to take up! I also think that the idea of using Twitch and live streaming as a way to raise money is such a smart and fun idea, how could HCII not get involved?"
Participation in the gaming marathon will take on many forms. The online gamers plan to broadcast live via Twitch throughout the marathon with team members signing up for designated shifts to keep the stream going strong for all 24 hours. Team members are coming together from across the CMU community, including HCII faculty members Jessica Hammer, whose Rosenstrasse game was just selected for IndieCade 2017, and tabletop gaming super fan Geoff Kaufman, who will be bringing some of his most obscure board game gems.
This is the first year that the HCII is participating in Extra Life, and the MHCI students have set an ambitious goal of raising $5,000. Short of staying up all night and playing Super Smash Bros or Windjammers with them, here are other ways you can help the team:
Make an online donation to team Carnage Melon. Any dollar amount helps, and 100% of your tax-deductible donation will go directly to Children's Hospital of Pittsburgh.
Show your support of your fellow HCII community members by sharing this cause on your personal social media account. The students appreciate your shares or retweets.
Tune in to the live CMU HCII Twitch stream at any point during the marathon to watch the team in action. Feel free to offer words of encouragement in the Twitch Chat window.