Gizmodo Highlights Skin Button Technology in Best of 2014 List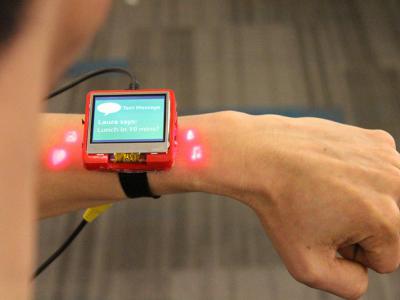 Gizmodo has named Skin Buttons one of the "Seven Most Important UI and UX Ideas of 2014." The technology — developed by Ph.D. students Gierad Laput, Robert Xiao and Xiang 'Anthony' Chen, who are advised by Assistant Professor Chris Harrison and Professor Scott Hudson — uses tiny laser projectors integrated into a smartwatch to render icons onto the user's skin.
"Designed in response to the conundrum of the smartwatch — how to control a complex, very small screen UI with our fat fingers? — the interface projects light beads onto the skin of the wrist when needed, acting as a secondary interface when a tiny screen just won't do," the site noted.
Skin Buttons found themselves in good company, with things like Google's Material Design standard and MIT's THAW technology for using a smartphone to control a display also making the cut. To see what's on the list, read the article here.