Hacking for the Kids at UPMC, HCII students on 1st and 4th place teams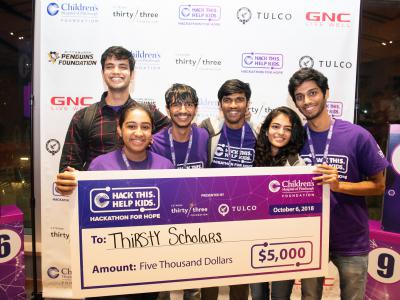 Almost 300 hackers gathered in the new Tepper Quad on October 5, many staying for 24 hours straight.
If the thought of this many hackers on campus made you clutch your credit cards a little bit tighter, don't worry. These hackers weren't the hoodie-wearing stereotype, working under the cloak of darkness to steal your personal information.
These hackers gathered to use their unique skills and perspectives for good, to solve 11 real problems for the children and families at Children's Hospital of Pittsburgh. Members of the UPMC Children's Hospital of Pittsburgh community, including patients, families, physicians and nurses, presented 11 problems as pain points, with topics ranging from following proper medicine schedules to deciphering asthma demographics.
The Children's Hospital of Pittsburgh Foundation event, HACK THIS. HELP KIDS. Hackathon for Hope, was UPMC Children's first ever 24-hour pediatric hackathon (presented by Citrone Thirty Three Foundation and Tulco).
HACK THIS. HELP KIDS., invited people with diverse experiences and backgrounds such as medicine, engineering, design, software development, and business, and many students from the Human-Computer Interaction Institute (HCII) answered the call to participate. In fact, students from the HCII were on the first and fourth place teams, applying their human-centered education to their teams' winning solutions.
The winning team, Thirsty Scholars, provided an innovative solution to storing and delivering breast milk and received the top prize of $5,000 from Children's Hospital of Pittsburgh Foundation. Team Thirsty Scholars was comprised of Carnegie Mellon University students Shivang Gupta (METALS, HCII), Rishi Pisipati (METALS, HCII), Ria Maheshwari (MISM, Heinz), Kartik Moudgil (MISM, Heinz), Harshal Parekh (MISM, Heinz) and Aparna Jaggi (Material Science Double Major, CIT).
The fourth place team, No Doubt on Your Way Out, focused on improving the post-hospitalization planning process and received a $500 prize. The team had a variety of perspectives but an instant connection, and was comprised of Neha Agarwal (MHCI, HCII), Rayna Allonce (MHCI, HCII) Felix Liu (undergrad in psychology and HCI), Marty Bacik (undergrad business student at the University of Pittsburgh), and Megan Conover, a nurse, who brought excellent field knowledge to the team.
Team Thirsty Scholars
Shivang Gupta and the Thirsty Scholars team decided to work on pain point number six because "It stood out to us as different from all the others which were more information or software related. This topic [Design Breast Milk Storage and Delivery] required a holistic approach to software, hardware and, most importantly, process which complemented our team's skills. Also, we got great advice from Sarah Ball, one of the mentors at the hackathon, and that really helped us make the final decision," said Gupta.
A mother's breast milk provides vital health benefits but comes with strict storage constraints. Fresh milk must be refrigerated immediately (unless it will be used within four hours), refrigerated milk must be used within 72 hours, and frozen milk needs to be used within 12 months. Adding to the complexity of the schedule, the NICU needs to distribute the correct mother's milk every three hours to up to 45 babies at a time.
The winning team designed a hardware and software solution to make sure the infants receive the correct milk at the proper time and temperature, and called it Hope: A Smart Neonatal Nutrition Supply System.
"Simply put, Hope is like a fitbit for the breast milk bottles in the NICU. The hardware system monitors the temperature and expiry of the milk and contains technology to help match bottles to the correct patient. This data is then communicated to a software dashboard for the nurses to get an overview from," said Gupta.
The team applied their human-computer interaction education during the competition, including skills learned during their METALS (master of educational technology and applied learning sciences) Interaction Design Overview course to improve the aesthetics of their digital prototype.
"From user needfinding to structured interviews, we started with understanding the specifications and needs. We used rapid prototyping and high-fidelity mockup skills to create a simple demonstration of our idea for others to visualize. Personally, I had the opportunity to apply Human Factors knowledge directly from my course to the hackathon problem by doing an error analysis of the process using Fault Tree Diagrams and Theoretical CTAs," said Gupta.
This was not these two METALS students' first hackathon experience. Gupta and Pisipati participated in a few as undergraduate computer science students at Hong Kong University of Science and Technology and NIIT University in Alwar, respectively.
Highlights of the event for Gupta included the keynote address from Thomas Tull, founder and CEO of Tulco, and getting to meet Jimmy Spagnolo, a former UPMC Children's patient, who shared his inspiring story at the opening ceremony. Jimmy was diagnosed with an inoperable brain tumor at 4-months old, but a video of Jimmy ringing the bell to indicate the end of his chemotherapy treatments last year traveled around the world.
Teammate Rishi Pisipati added, "Personally, my favorite experience from the Hackathon was when we informally interviewed a lot of mentors and gained valuable insights from their description of the problem, which we would have otherwise missed while designing our prototype."
Team No Doubt on Your Way Out
This was the first hackathon experience for HCII students Neha Agarwal and Rayna Allonce, two masters of human-computer interaction (MHCI) students determined to make the most of all opportunities during their one-year program.
Agarwal chose to work on pain point number 9 [Create a Post-Hospitalization Plan] after it personally resonated with her.
"I have helped with family being in the hospital on various occasions and know how challenging the post-hospitalization process can be. There's a lot of exhaustion, chaos, and emotions at the end of a hospital stay with everyone feeling anxious to get home. The last thing people want to hear are a bunch of instructions about what medicines to take, when to come back, when to follow-up with their doctors, etc., but it's also so important and can prevent readmission (which costs the hospital a lot of money and is stressful for the patient and their caregivers). The opportunity to think about a better solution than what is currently in place resonated with me a lot," said Agarwal.
The team added a QR code to the existing physical discharge papers to direct patients and their caregivers to a personalized dashboard with the same information, but in a more user-friendly layout. The star of the dashboard was the addition of "Charlie," a customizable avatar to help young patients learn to care for their condition.
"Our hope was that this avatar could make the diagnosis less scary and more approachable and manageable for the patient," Agarwal said.
For those who remember caring for a Tamagotchi digital pet in the late 1990s, this human version would have the same conditions and needs as each patient. For example, discharge papers for a patient diagnosed with Type 2 Diabetes might require conducting a blood sugar test, taking insulin, and following up with their doctor. With help from an adult, the patient would complete the activities for Charlie, developing a sense of accountability for caring for this avatar, and ultimately for themselves and their treatment plan.
"I really loved that there were so many mentors available from the Children's Hospital and that they were so pumped to be there and offer their perspective," said Agarwal. "There was a tangible sense of excitement and appreciation from them."
As UPMC mentioned in a pre-event release, participants were encouraged to think creatively in order to arrive at innovative ideas.
"The Hackathon will highlight Pittsburgh coming together for a common goal – to spark new ideas and implement them in the future, which ideally will benefit our patients and families," said Srinivasan Suresh, M.D., M.B.A., F.A.A.P., co-chair of the event and chief medical information officer, UPMC Children's Hospital of Pittsburgh.
View the event's photo album on UPMC Children's Flickr.