Harrison receives Habermann Chair in SCS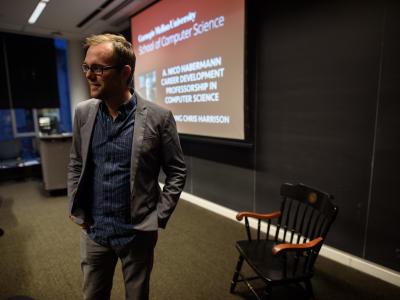 Chris Harrison, assistant professor at the Human-Computer Interaction Institute, has been named the A. Nico Habermann Chair in the School of Computer Science at Carnegie Mellon University.
The Habermann Career Development Professorship was established in 1998 in memory of A. Nico Habermann, founding dean of the CMU School of Computer Science. Habermann believed in recognizing and supporting outstanding young faculty members early in their careers, so the chair is awarded every three years to a junior faculty member with exceptional promise.
Harrison has taken the old-fashioned idea that computing must take place at a desk with a keyboard and mouse and put it in the past. The goal of his forward-thinking research is to improve interactions between humans and computers, making the experience more powerful and delightful. Instead of making a better desktop or laptop, his work is redefining what the whole human-computer experience might look like.
A few of Harrison's current research projects include themes of smart wearables, smart environments and touch interfaces. Harrison also directs the Future Interfaces Group (FIG) Lab, a unique lab space conducive to rapid ideation and prototyping of ideas, located on South Craig Street.
Tonight's event included remarks from Laurie Weingart, interim provost of Carnegie Mellon, Andrew Moore, dean of the School of Computer Science, and Anind Dey, director of the Human-Computer Interaction Institute, before the chair presentation.
Dey spoke of their first meeting, when Harrison was visiting as a prospective PhD student. "It was clear when I met him that day that he's the kind of person you say, 'I knew him when.' And, as evidenced by his short but amazing career, you can continue to say that about him, even if you just met him today for the first time: I knew him when."
Prior to being named Habermann Chair, Harrison's promise has been recognized by many outside of the University. He was named to 30 scientists under 30 by Forbes in 2011, 35 innovators under 35 by MIT Technology Review in 2012, one of six innovators to watch by Smithsonian in 2013, and has received fellowships from Google, Microsoft Research and Qualcomm.
Harrison earned his bachelor's and master's degrees in computer science from New York University, and his PhD in Human-Computer Interaction from Carnegie Mellon University. He joined the faculty in the Human-Computer Interaction Institute in 2014.