HCI Class Project Turned Entrepreneurship Lesson for Dedicated METALS Students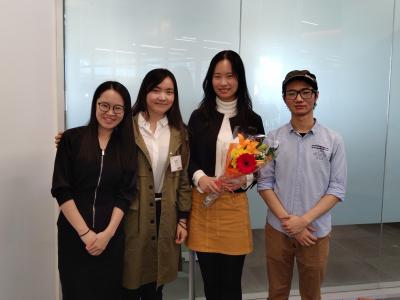 The work began as a group project for an elective HCI course.
Three Masters of Educational Technology and Applied Learning Science (METALS) students took the seminar-studio Learning Media Design course in Fall 2018 with instructor Marti Louw. This course focuses on the process of creating effective and engaging technology-enhanced learning experiences.
After a class visit to observe nearby Winchester Thurston School's Research Science course, METALS students Wei Gong, Qianhui Sun and Xiaofei Zhou turned the focus of their assignment to project-based learning (PBL).
"Winchester Thurston has been very open to partnering with CMU on design challenges associated with project based teaching and learning," Louw said.
Qianhui Sun, team lead, explained that they interviewed the instructor and other stakeholders, and eventually narrowed down their design focus to solve the problem of students losing track of their learning goals during the process of PBL.
Their final course project, GoTracker, was a learning management system (LMS) to improve the process of implementing PBL in K12 classrooms.
The PBL approach is increasing in popularity in secondary classrooms in the US and encourages deep learning by exploring real-world problems and challenges. However, this learning style can be difficult and time-consuming for teachers to assess.
"Our system allows students and teachers to co-design learning goals, document project making process and receive individual feedback. Teachers could save 30 percent of time in class management and be more focused on course delivery," said Sun.
The Learning Media Design course ended in December but the students continued to work on GoTracker in the spring, even adding another METALS student with a solid tech background, Canhai Chen, to the team. They refined their high-fidelity design, finalized decisions about the database structure, contacted more high schools in Pittsburgh, and talked to PBL experts and teachers during their trip to the SXSW education conference in Austin.
As they sought out more support for GoTracker, the students learned of the on-campus McGinnis Venture Competition. This multi-round competition for CMU student entrepreneurs provides financial support and assigns a business mentor to its participating teams. Their GoTracker pitch proceeded through two rounds and emerged as a finalist.
In the process of preparing for the McGinnis Venture Competition, they also applied for and secured National Science Foundation (NSF) Innovation Corps (iCorps) funding.
According to their website, the NSF I-Corps program prepares scientists and engineers to look beyond the university laboratory and accelerates the economic and societal benefits of NSF-funded, basic-research projects that are ready to move toward commercialization.
Sun had an important takeaway from the iCorps program in terms of the way HCI and business think about problems.
"Go out and talk to potential customers! Identifying a problem in HCI practice is different from validating the value of the problem from a business perspective. We can always make improvements to current solutions through various HCI techniques such as heuristics evaluation, affinity diagramming and diagnostic mapping, but is your solution of good business value? Getting people to pay for your good design is very different from letting them recognize that is good design."
Throughout this process, the team learned that there are a lot of challenges to overcome in this niche space, including limited school budgets, the complexity of B2B sales, and classroom workarounds that are "good enough." "We didn't intend to commercialize this learning management system even at the beginning, but we enjoyed the process of studying the market," said the team.
"Although we didn't in the end build it out, it's a lot of good work with friends, a lot of good learning, and I want to say how grateful I am to be able to meet and work with those fabulous people," said Sun. "I would like to mention special thanks to our client Winchester Thurston, whose passion greatly inspired us to move forward. Thanks Marti for curating such a wonderful course at CMU that made us believe what we are doing is adding value to the current landscape of PBL. Thanks our business mentor Bharanidharan Rajakumar (assigned to us through McGinnis Organizer) who constantly provided us with insightful advice in creating business value. Thanks Melanie Simko, Lynne Porter, Kit Needham from CMU Swartz Center of Entrepreneurship and Project Olympus for offering us support in business development and all the high schools who actively responded to us for customer discovery and field testing. And also, thank the other teammate Sarah Schultz, who did not continue to work for the Venture Competition with us but contributed a lot to this project during the semester."