HCII Announces DEI Committee and Fund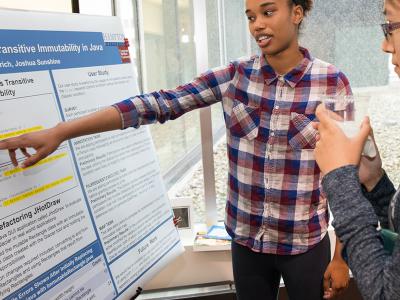 Founding a new committee while working remotely during a pandemic might not sound like ideal timing, but those challenges have not stopped a passionate group of faculty, staff and students at the Human-Computer Interaction Institute.
This summer, the HCII established a new committee to address and improve the diversity, equity, and inclusion (DEI) in all areas of the department.
One HCII DEI sub-committee is dedicated to increasing the number of HCI students of diverse backgrounds at the masters and doctoral levels. A more inclusive student body will encourage diversity of thought and will benefit both the HCII and the larger CMU community.
The group identified cost as a potential barrier to prospective students and worked with the School of Computer Science Development office on the new "Human-Computer Interaction Institute Equity, Diversity and Inclusion Fund," which is now accepting donations.
This fund will provide financial support to department initiatives that promote equity, diversity and inclusion at the HCII. Such support may include, but is not limited to, fellowships for underrepresented students, recruiting efforts to reach prospective students of diverse backgrounds, educational events and seminars.
Graduate students can benefit from the fund as early as next academic year.
Raising money to establish this fund is the first of many goals set by the DEI committee, which is looking to implement short-term improvements and long-term, sustainable change.
As the SCS DEI Lead and the chair of the HCII DEI committee, HCII Professor and Geschke Director Jodi Forlizzi said, "I am proud of, and inspired by, the innovative work the HCII DEI committee is doing, much of it led by our junior faculty. Collectively, the work of this committee is raising awareness in SCS of what we can do to improve the culture and climate in SCS."
Please join the HCII in making positive change to our community and give now to show your support of this important initiative.
Carnegie Mellon University does not discriminate in admission, employment, or administration of its programs or activities on the basis of race, color, national origin, sex, handicap or disability, age, sexual orientation, gender identity, religion, creed, ancestry, belief, veteran status, or genetic information. Furthermore, Carnegie Mellon University does not discriminate and is required not to discriminate in violation of federal, state, or local laws or executive orders.