HCII Collects Best Paper and Accessibility Challenge Awards at W4A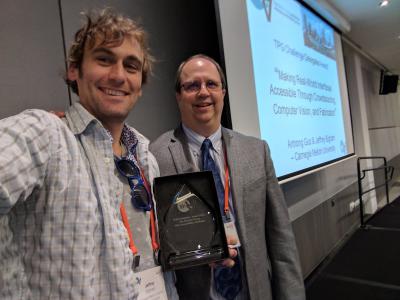 The Human-Computer Interaction Institute had a strong presence at the 14th International Web for All (W4A) conference in Perth, Australia, where researchers accepted both the Best Technical Paper award and won the Accessibility Challenge.
This year, the W4A conference centered around the increasing need for remote teams as the research focus. The theme, "The Future of Accessible Work," addresses the rise of a remote workforce and the growth of globalization. In response, W4A and accessibility researchers are advocating for a more inclusive work environment, including the development and adoption of accessible technologies that are usable by people with and without disabilities.
Jeffrey Bigham, an associate professor in the HCII, was behind three of the four papers from the HCII presented at the W4A conference, covering both the technical and communications categories.
"W4A is the premiere conference on web accessibility, drawing substantial interest from both academia and industry," Bigham explained.
"CMU has continued its presence at the conference this year, with several full papers and other publications. I am proud that our work in the important area of accessibility has been recognized this year at W4A with a number of awards, including the Best Technical Paper, the Paciello Accessibility Challenge Award, and a nomination for the Best Communications Paper."
The Best Technical Paper award went to Robotics Institute Postdoctoral Fellow Dragan Ahmetovic, HCII Ph.D. student Cole Gleason, who recently received a 2017 NSF Fellowship, and their collaborators at IBM Research and Indiana University.
The nomination for Best Communication Paper was given to the paper, The Crowd Work Accessibility Problem, from Bigham, Saiganesh Swaminathan and Kotaro Hara of Carnegie Mellon University.
HCII also took home the Paciello Accessibility Challenge Award for VizLens, an accessible mobile application that can robustly and interactively use any application it encounters using crowdsourcing, computer vision, and fabrication.
Other accepted papers include Scopist: Building a Skill Ladder into Crowd Transcription, a technical paper from HCII Ph.D. student Kristin Williams, and HCII faculty John Zimmerman and Bigham; and communications paper, DysMusic: Towards the Prediction of Dyslexia by a Web-based Game with Musical and Visual Elements, with HCII's Luz Rello, Bigham and collaborators from Universitat Pompeu Fabra.
Web for All 2017 Accepted Papers:
Technical Category:
Communications Category:
Accessibility Challenge Winner: