HCII & ETC Student Game Brings Home Best Student Game and People's Choice Award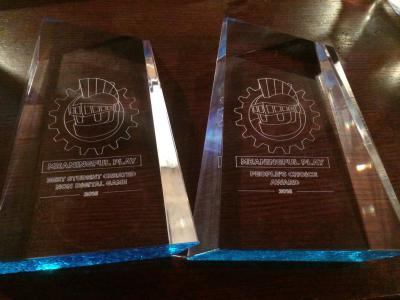 Alexandra To of the Human-Computer Interaction Institute (HCII) and Elaine Fath of the Entertainment Technology Institute (ETC) brought home two awards from the Meaningful Play Conference October 20-22, 2016.
To, the research lead, and Fath, the design lead, are the driving force and vision behind the game Outbreak, along with project members Anny Fan, Catherine Kildunne and Eda Zhang. Outbreak won both the Best Student Non-Digital Game and the People's Choice Award, a testament to the students' vision and hard work on this project.
Zombies, Robots and Scientists...Oh My!
In Outbreak, a scientist's experiment has gone terribly wrong. The lab, located in an old abandoned house, is now full of monsters, zombies and ghosts, all former lab assistants accidentally transformed by the experiment.
Players must leverage a remote team including a sensing robot to help navigate the lab rooms in search of hidden antidotes. The catch is that the robot can only answer certain kinds of questions, helping students develop their curiosity and question-asking skills.
Creating Space for Curiosity
The game is designed to foster curiosity within STEM fields for underrepresented middle school students, such as students from low socioeconomic status, minorities and women. While both supporting and studying curiosity, Outbreak offers students a place to ask questions and test their own guesses.
"Our role is to create a game that sets up situations where students can practice curiosity skills safely; the award validates that we've made a game that's fun, but our research on its effects on curiosity are ongoing," explained faculty lead Jessica Hammer, assistant professor jointly appointed in the HCII and the ETC. Hammer, together with HCII assistant professor Geoff Kaufman, supervised the game design and research process.
Merging Strengths of the HCII & ETC
Hammer's joint appointment gives her a clear view of the benefits of mixing the strengths of both departments. To and Fath spent the summer drawing on the techniques and methodologies of their respective fields as they iteratively produced and playtested prototypes.
"They had to keep the game aligned with research goals and collect research data under some rather challenging conditions," said Hammer. "Not only did they manage it, but they seemed to have a great experience as a team."
Fath credits playtesting Outbreak as a driving force behind the design and improvements of the game.
"One thing that helped push our design forward was the opportunity to run weekly playtest iterations with two groups of players across three sites, who each represented our target audience but within a wide range of age and socioeconomic status," Fath explained.
"It helped us compare and contrast the game experience of different players within that audience. We are grateful to our playtesting sites and kids for opening their doors to us on a weekly basis, and for keeping an open mind as we iterated!"
To and Fath's game design process brought together research and methodologies from a wide range of fields and also served to strengthen the impact of the game.
"Our game design process 'Tandem Transformational Game Design,' presented as a paper at Meaningful Play 2016, integrates best design and research practices from human-computer interaction, transformational games, design, psychology, and organizational behavior," said To.
"We emphasize a dual focus on both making to reflect and iterating on theory."
Introducing Virtual Peers
Outbreak is one game developed as part of a larger research project studying curiosity. The SCIPR project, supported by the Heinz Foundation and Fath's Creative Good Fellowship, is a collaborative project that brings together researchers from the HCII, the ETC and CMU's Language Technology Institute (LTI).
During the coming year, To and her team will be working with the Articulab to integrate a virtual peer that can play the game along with the children players. Virtual peers, like Alex, are artificial intelligence robots that can support the social and emotional aspects of curiosity.
While human players will interact with the physical game, a virtual peer will be able to use a digital model of the game, combined with sensing technology from the MultiComp Lab, to respond in real time as the game is played.
As To and Fath move into the next phase of their work, it's safe to say this lab experiment gone wrong is a game done right.