HCII Faculty Yao and Zimmerman to Speak at SXSW2019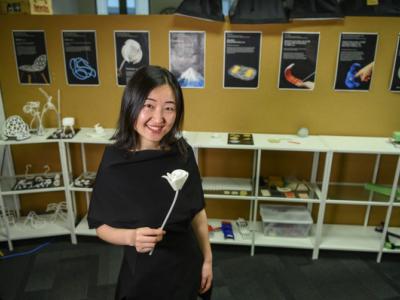 Carnegie Mellon University students, faculty and alumni will be among the thousands descending onto Austin, Texas, for South by Southwest (SXSW) March 8-17, 2019.
Two faculty from the Human-Computer Interaction Institute will be speaking during separate sessions on Tuesday, March 12.
John Zimmerman, the Tang Family Professor of Artificial Intelligence and Human Computer Interaction, will discuss efforts to improve accessibility to public transit for persons with disabilities as part of the panel on "Accessible Transportation for All."
"Technology is making it more and more possible," Zimmerman said. "There's particularly a lot of work in the space of universal design. Can you make designs that privilege people who have higher needs, but the solutions benefit all riders?"
Lining Yao, an assistant professor in the Human-Computer Interaction Institute, will demonstrate her research during the session "Morphing Into the Future: 'Shapeshifter' Materials," also on March 12. Yao's research produces programmable materials that change shapes. Yao gave the example of pasta that can ship flat and takes its shape in boiling water.
"You can save almost 62 percent of packaging space for macaroni if you pack them flat," Yao said. "You can imagine that food could not only be sold in supermarkets, but also could be rapidly deployed to disaster sites and even in the future go on space travel. Space saving becomes an even more important issue when we talk about eating in a space ship that has to travel three years going to Mars."
Founded in 1987, SXSW is best known for its conference and festivals that celebrate the convergence of the interactive, film and music industries. The event also features sessions, showcases, screenings, exhibitions and a variety of networking opportunities. For more about CMU's participation in SXSW, read the full CMU news story.
You can also follow #CMUatSXSW on social media for the latest updates.