HCII Hosts Event for Bay Area Alumni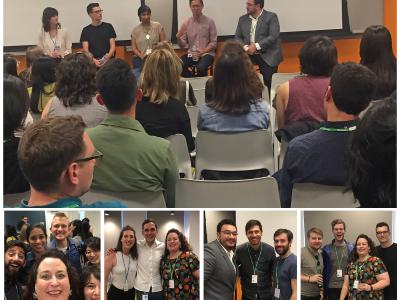 Less than 48 hours after going online, the tickets were gone.
The tickets -- not for a concert, Broadway show or cross-town rivalry sporting event -- were for our Human-Computer Interaction Institute alumni networking event on Thursday, June 14, 2018, at Facebook, Inc.
Alumni responses to a recent email survey indicated that the largest concentration of HCII alumni in the world can be found in San Francisco, Calif., which inspired the visit. Our Bay Area alumni responded quickly and enthusiastically to the invitation to the free networking event, and all 75 seats were spoken for in just over a day.
"Registration for the event booked so quickly that we had to go back to our hosts at Facebook to see if they had any larger spaces available," said Nicole Willis, director of MHCI student affairs. "Thanks to our amazing friends at Facebook, we were able to accommodate a few more folks from the waiting list. However, even with the second, larger space, we still had guests on the waitlist hoping to attend."
Lee Hillman, executive director of the Master of Human-Computer Interaction program, kicked things off with a brief HCII department update and introduced Jodi Forlizzi, Geschke Director and professor at the HCI Institute, who was in attendance.
Hillman then kept the conversation flowing as he led the alumni panel portion of the event, engaging with four MHCI alumni. Panelists discussed their individual career journeys and the impact that the MHCI experience has had on their careers. They also weighed in on current challenges and trends in today's market and how those might impact our future HCI grads.
Attendees spent the rest of the evening networking with old and new friends, with many mentioning the feeling of positive energy in the room.
"There is something special about Carnegie Mellon and the MHCI cohort experience. It's invigorating to connect with other CMU HCII alumni who share your background and values around the importance of this work," said Hillman.
Jessica Stanley, alumni & corporate relations coordinator at the HCII, called the department's first standalone alumni event in 7 years a success. "It was wonderful to see alumni reconnecting with friends from their cohort and making connections from shared experiences with alumni from other cohorts."
Hillman added, "It was so rewarding to see the amount of interest in this alumni event at Facebook. It's clear that our alumni are hungry for more opportunities to leverage their networks, grow their careers and share their experiences. We're looking forward to organizing many more events like this in the near future around the world."
Special thanks to 2009 MHCI alumnae Andrea Coens who helped to organize the Bay Area event.
HCII alumni are encouraged to keep in touch as our alumni efforts are gaining momentum. Alumni can keep their contact information up to date, share ideas about ways to engage with the department, and learn more about the newly-created MHCI Alumni Board by contacting Jessica Stanley at stanleyj@cs.cmu.edu or (412) 268-4691. This inaugural board will serve as a voice for the alumni network with plans to strengthen the educational mission of the HCII through strategic projects, advocacy, philanthropy, and engagement with fellow alumni. The MHCI Alumni Board application must be submitted by July 6, 2018.