HCII Seeks Capstone Sponsors for 2021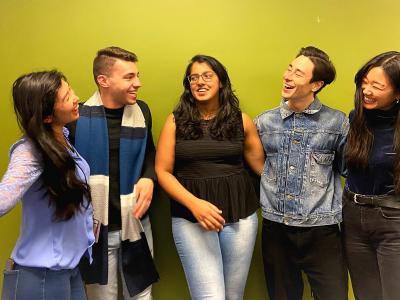 Apply our future HCI leaders to your organization's challenges next year
The Human-Computer Interaction Institute invites companies, startups and nonprofits alike to sponsor a Capstone project for HCI students. We are currently seeking client commitments for the 2021 Capstone projects that will begin in February.
Capstone partnerships give students the invaluable experience of working on a real-world project while project sponsors receive hundreds of hours of skilled research and development.
If you are interested in working with us, please review the project details and contact the corresponding program(s) below.
MHCI Capstone Projects (spring & summer)
The MHCI Capstone Project is the premier engagement with the HCII, delivering the greatest educational benefit to the students and deepest exploration for industry partners. Capstone Projects provide fundamental integration between a student team, faculty mentors, and a corporate sponsor, focused on an area of exploration and design development driven by the industry partner.
The equivalent of a master's thesis, the Capstone serves as the culmination of a student's MHCI experience and is often a way corporate sponsors can explore products, services, and emerging technologies that may not fit into their existing roadmaps. Capstone projects have been used to invigorate existing teams or to supplement corporate partners without an internal experience team. Over the course of the MHCI program, students have worked with clients ranging from early stage startups and non-profits to global tech giants, and have created a variety of solutions in past MHCI Capstone projects.
OVERVIEW:
The duration of an MHCI capstone project is 7 months (February to August). (For shorter duration projects, sponsors can also consider Independent Studies and Externships, which range from 1 to 3 months. See: Doing Research with Us.)
Capstone teams are formed with 4 to 6 students and 2 faculty advisors assigned to each project. The project sponsor is expected to serve as a domain expert and provide regular critique and collaboration with the team.
COST:
A gift to the university as defined with the CMU team.
NEXT STEPS:
For more information about sponsoring an MHCI Capstone project, please let us know that you're interested (as soon as possible and before December 18, 2020) by contacting Jessica Vogt, MHCI engagement manager
METALS Capstone Projects (spring & summer)
Take advantage of our extensive expertise in learning science research and educational technologies to create or improve one of your educational technology products, services or systems.
OVERVIEW:
The duration of the METALS capstone project is also 7 months (February to August). Each team is made up of 4-6 students and 2 faculty advisors, industry mentors, and subject matter experts for guidance.
Students conduct user research and create low-fidelity prototypes during the spring, and by summer, the team narrows the focus of their research to conduct weekly iterations of prototypes, analysis, and user testing. Collaboration continues until students submit their final deliverables and high-fidelity prototype at the end of the summer semester. Learn more about some recent METALS capstone projects.
COST:
A gift to the university as defined with the CMU team.
NEXT STEPS:
If you are interested in sponsoring a METALS capstone project, please let us know as soon as possible by contacting Michael Bett, METALS managing director
Undergraduate HCI Capstone Projects (spring)
We are looking for clients who wish to collaborate with a team of strong, interdisciplinary students on an open-ended problem for which a novel, innovative digital product or service might be a solution. We are looking for approximately 10 project clients for the spring semester of 2021. If selected, there will be no cost to the client.
Our talented undergraduate HCI students have improved the features of the popular reservation app, Resy, built the controls for a kid-oriented robot, designed an interactive exhibit for the Carnegie Museum and built an application to help players on the Pittsburgh Steelers NFL team to learn their playbook. Other prototypes designed and built by our student teams include a video game to help orthopedic surgery patients with their rehab exercises and novel controls for a robotic arm for quadriplegics.
OVERVIEW:
Well-rounded teams are formed with 4 to 5 seniors from varying disciplines (eg. Computer Science, Design, Psychology, Information Systems, Business) majoring in Human-Computer Interaction at Carnegie Mellon. Students complete several activities, including: user-centered research to assess needs, ideation and concept validation, interaction design, prototyping, and several rounds of user testing and redesign. The final deliverable is a highly polished prototype with documentation of research and code. Clients often turn their prototype into fully functional products, sometimes by hiring one or more members of the project team for the summer.
REQUIREMENTS:
Projects begin in February and finish in early May. The best projects for students and clients balance flexibility and structure, meaning that they are open-ended with room for research discoveries, judicious scoping decisions, and design creativity, but are not all the way over at the far end of being ill-defined. Projects can be based on an existing product, but do not have to be. Because the course has its own set of deadlines and deliverables, projects should not be tied to the client organization's production schedule. Although clients do not pay for the projects, they must commit to weekly contact with their student team, with at least one person on the client side who will spend a few hours per week providing materials, software, and feedback to the students (as needed). Clients are also responsible for helping the project team gain access to users and other stakeholders over the course of the project.
COST:
Free!
NEXT STEPS:
If you have a project that could benefit from the expertise of our students, please reach out by close of business on Monday, December 14, 2020. Be sure to include the contact information of your intended client liaison, as well as a short (1-3 paragraphs) description of your project. In your project description, please explain how you would help the project team gain access to users and, if appropriate, other important stakeholders. We will invite 10 to 15 potential clients to (virtually) give a very short presentation to the students on Monday, January 11, 2021. Potential clients who cannot attend the virtual session will be able to submit a video presentation, although live (virtual) participation has the advantage that students can get their questions answered right away. Each student will then rank the projects according to their preferences. Based on their votes, projects will be selected and student teams formed prior to the first day of class (February 1, 2021).
Contact: Vincent Aleven, professor and HCI Director of Undergraduate Programs