HCII Team Tests Fitness Tracker for Wheelchair Athletes at NWBT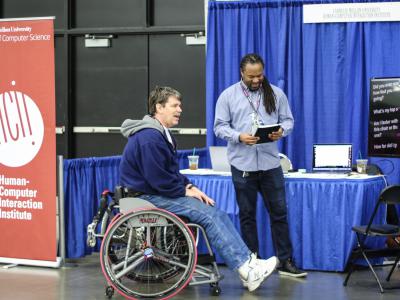 "It's like all of March Madness in one weekend," said Patrick Carrington, postdoctoral research fellow at the Human-Computer Interaction Institute, of the National Wheelchair Basketball Tournament (NWBT) in Louisville, Kentucky.
This is not Carrington's first time attending the tournament. He began volunteering with the NWBT operations team two years ago while researching wearables for wheelchair users during his PhD in Human-Centered Computing (HCC) at UMBC. Carrington's primary research area, chairable computing, focuses on inclusive design and ability-based technology solutions for wheelchair users.
This year, Carrington returns to the Kentucky Expo Center with two others from the Carnegie Mellon University Accessibility Group to conduct user research for their current SpokeSense prototype, a fitness tracker for wheelchair athletes.
Up until this point, Carrington's SpokeSense user tests have consisted of volunteers wheeling around in the department's Per4max sport chair and one practice session of the local wheelchair basketball team, the Pittsburgh Steelwheelers, so Carrington is understandably excited about attending the NWBT this weekend. With over a thousand wheelchair basketball athletes, it's the world's largest single-sport event for athletes with disabilities.
Carrington, Jeff Bigham, associate professor of HCII and LTI, and Gierad Laput, PhD student in HCII, hope to interact with as many attendees as possible at their booth in the vendor space of the convention center. The three plan to conduct user tests and interviews in order to collect data and impressions of their prototypes.
"It's going to be really exciting to have these experienced athletes testing out the chair sensors," said Carrington.
The SpokeSense system consists of a variety of sensors, which fit into a small, laser-cut case. A case is attached to the center of both hubs in order to collect real-time data from both the left and right wheels of the sport chair.
The system measures core metrics, including speed, distance, intensity zones, acceleration and braking. It can also measure the athlete's position relative to gravity, or tilting, which is something unique to the sport. Wheelchair basketball players often tilt onto one wheel to extend their reach -- for example, to reach for a jump ball -- and an athlete might want to know the angle or how long they maintained the tilt.
"What HCII brings to the table, in this type of research, is in complement to the exercise science and rehab aspects of fitness tracking," said Carrington. "There is no immediacy of the data to just log everyday activities. We want to make the information useful to the population, the athletes, and the coaches."
Laput, a collaborator on the SpokeSense prototype, agreed. "Patrick had this idea of attaching 'pucks' [the sensor] to the wheelchair, really clever," Laput said. "The sensor can also detect in-game contexts like dribbling, referee whistles, or game buzzers… Capturing this information is useful for coaches as they monitor player fatigue and other stats. The data can also help players measure and improve their performance."
"One of the things I've learned from Patrick is how data- and sensor-driven modern professional athletics has become," said Bigham. "With SpokeSense, we're trying to bring that same level of quantification and analysis to wheelchair athletes, who move differently, who need to use different sensing approaches, and who are interested in different metrics."
The SpokeSense team is inspired by the work of the University of Pittsburgh Human Engineering Research Lab, located just down Penn Avenue from CMU in Bakery Square.
Carrington interned with Intel during his PhD where he worked on wearables for elite athletes. He saw the need for this work because they rarely talked about accessibility or fitness tracking for athletes of all abilities. This led to his 2015 ASSETS paper, "But, I don't take steps": Examining the Inaccessibility of Fitness Trackers for Wheelchair Athletes."
The team will analyze the data from this tournament, focus their research with a few athletes over the summer, and deploy the technology at a larger scale in the fall. They plan to share their research behind SpokeSense as a paper to the upcoming ASSETS and UbiComp conferences.
The 70th anniversary NWBT is going on now, April 12-15, 2018. Two divisions with 48 teams each will compete on twelve courts to determine Junior and Adult division team winners. Follow along with the tournament at home as all games on court 3 will be live streamed on their website: https://www.nwba.org/