A History of Robotics on Display at CMU's Hunt Library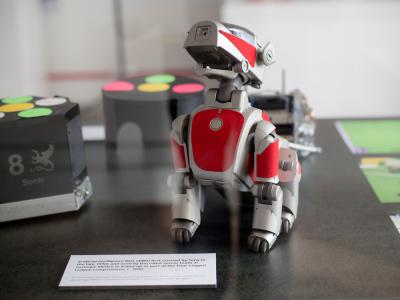 The Carnegie Mellon University Libraries latest exhibition highlights the history of robotics at CMU and the ongoing work of The Robotics Project to preserve the legacy of the field.
The exhibition, "Looking Back To Move Forward / A Re:collection of Robotics at Carnegie Mellon," opened Jan. 19 and runs through Friday, March 18, in the Hunt Library gallery. A virtual tour is available for visitors to explore the exhibition remotely.
Curated by archivist and oral historian Katherine Barbera and Kathleen Donahoe, the Robot Archive processing archivist, "Looking Back To Move Forward" invites viewers to explore the history and the wide variety of research areas that CMU is known for, including field robotics, artificial intelligence and human-robot interaction, among others. Visitors will see more than 40 robots and archival artifacts — such as soccer robots, snake robots, a nurse robot called "Pearl," a "Snackbot" autonomous food-delivery robot, and "Terregator," one of the first outdoor autonomous vehicles — along with personal recollections from the people who made it all happen.
"The best way to tell CMU's story is to do it honestly — as a complex, comprehensive and nuanced account of successes and failures, inspirations, and warts," said Barbera. "Through the efforts of The Robotics Project, we will ensure that historians, scientists, journalists, filmmakers, students and other creators from the many fields who rely on archives for historical research are able to access this history and make it part of the public collective memory."
The exhibit presents a look inside the unique archival process and steps taken by The Robotics Project to preserve the items, providing important context for each project's past while also considering its future. The Robotics Project, an interdisciplinary approach to preserving the legacy of robotics through a partnership between University Libraries and the School of Computer Science, launched in December 2019.
"While robots are the main attraction for most people, we hope audiences will appreciate that this project goes beyond the physical items," Donahoe said. "The Robotics Project team is building a research collection to investigate the research ecosystem of robotics, create a model for preserving these records and document the history of the field."
"Looking Back To Move Forward" builds on the digital exhibition, The Robotics Project: Building the Robot Archive, which examines the legacy of robotics at CMU and provides a behind-the-scenes look at the collaboration with the robotics community and the challenges in collecting and preserving these materials. It is the debut exhibition in the new first-floor gallery in Hunt Library.
Visitors to this exhibition should review the university's COVID-19 Visitor Protocol before their visit.
Learn more about "Looking Back To Move Forward" on the University Libraries' website.