"Innovation by Design" Awards Recognize Several in HCII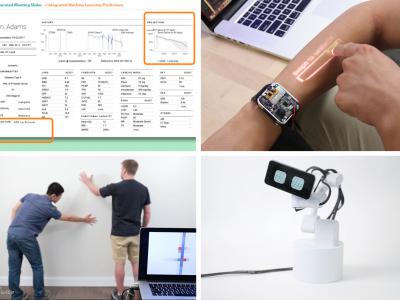 Several from Carnegie Mellon University's Human-Computer Interaction Institute were honored by Fast Company in its annual Innovation by Design Awards. Two projects from the HCII were finalists and two more earned honorable mentions in 2018.
All of the award's honorees share one thing: a commitment to solving problems, no matter how big or small, as simply and as beautifully as possible.
"Given the highly applied nature of HCI research, it's not surprising there is natural fit with Fast Company's Innovation By Design Awards. They want to recognize the most creative ideas with real world potential," said Chris Harrison, assistant professor of human-computer interaction and researcher on two of the four projects.
Clinical Decision Support for Artificial Heart Implant (Finalist)
To implant or not to implant (a mechanical heart)?
When that is the question, cardiac surgeons don't like being told what to do by a computer. In fact, the researchers learned that the surgeons barely even touched computers throughout the day, leaving that task to more junior members of the team.
John Zimmerman, professor of human-computer interaction, and Qian Yang, Research Fellow in Digital Health and Ph.D. student in human-computer interaction, have been building a digital tool to help cardiac surgeons decide whether or not to implant a mechanical heart by predicting how well the patient might fare after surgery. The AI was trained on a database of 5,000 patients who already had the surgery and their outcomes. Clinical decision support tools (DST) like this one promise improved healthcare outcomes by offering data-driven insights. But since most DSTs fail when going from lab to clinic, Zimmerman and team set out to design a new solution in the decision-making process.
The team watched how doctors made decisions and ultimately found inspiration from Unremarkable Computing -- the idea that technology can have significant importance yet remain unobtrusive while adding something to the users' routines.
The researchers noticed that the surgeons met weekly with their peers to review tough cases over manually-created slides, and they saw an opportunity.
"No one gets paid to make those slides, so the non-medical staff does them," Yang pointed out.
Capitalizing on this manual task, Zimmerman's team created a slide-building tool that would combine all the relevant data on a patient, as well as the projected patient outcome provided by the AI. User testing has been positive so far.
Learn more from their first paper on this research: Investigating the Heart Pump Implant Decision Process: Opportunities for Decision Support Tools to Help
Researchers: John Zimmerman, Qian Yang
LumiWatch (Finalist, Students)
While smartwatches are convenient, there is a limit to their functionality due to their small interfaces. Enter LumiWatch. This CMU team collaborated with ASU Tech to reveal the first fully-functional and self-contained projection smartwatch implementation in a research paper presented at CHI 2018.
By using shallow-angle projection to project the display onto the wearer's forearm, the LumiWatch offers more than 5 times the interactive surface area of a typical smartwatch display.
Project page: https://hcii.cmu.edu/research/lumiwatch
Researchers: Robert Xiao, Teng Cao, Ning Guo, Jun Zhuo, Yang Zhang and Chris Harrison
Wall++ (Honorable Mention)
Researchers at the HCII and Disney Research collaborated to find that they could make walls "smart" at relatively low cost — about $20 per square meter —using simple tools and techniques to make them interactive.
These new capabilities might enable users to place or move light switches or other controls anywhere on a wall that's most convenient, or to control video games with gestures. By monitoring activity in the room, this system could adjust light levels when a TV is turned on or alert a user in another location when a laundry machine or electric kettle turns off.
"Walls are usually the largest surface area in a room, yet we don't make much use of them other than to separate spaces, and perhaps hold up pictures and shelves," said Chris Harrison, assistant professor in CMU's HCII. "As the internet of things and ubiquitous computing become reality, it is tempting to think that walls can become active parts of our living and work environments."
Project page: https://hcii.cmu.edu/research/wall
Researchers: Yang Zhang - lead researcher; Jack Yang - researcher; Scott E. Hudson - lab advisor; Chris Harrison - lab advisor; Alanson Sample - lab advisor
Emoto AI Sidekick (Honorable Mention, Students)
Three Carnegie Mellon undergraduate students, two with additional majors in HCI, also made the list with an Honorable Mention for their Emoto project. (Undergraduate students studying human-computer interaction at Carnegie Mellon University must first have a primary major in another subject.)
CMU seniors Lucas Ochoa (design and human-computer interaction), Marisa Lu (design and human-computer interaction), and Gautam Bose (design), created Emoto the AI sidekick during their Junior Spring Environments design studio, taught by Assistant Professor of Design Dan Lockton.
Emoto was their response to the prompt "Where are the humans in AI?"
This project was meaningful to Marisa Lu because it wasn't about solving an immediate problem. "Rather it takes on Dunne and Raby's framework for speculative design as a way to pose provocative 'what if' questions intended to open debate and discussion about the kind of future people want (or don't). Simply being able to get different ideas out is powerful because it makes reality more malleable. I feel like I've learned that thinking through making is a powerful tool to engage people in conversation. That FastCo recognizes provocative visioning and storytelling as a way design can contribute to innovation...is well...kind of awesome," said Lu.
Ochoa added, "While we're really excited about the current state of our project, we can't wait to explore what some of the principles we established with emoto could mean as a generalized human to robot communication system or as an actual 'character' focused AI that you'd be able to use at home."
Project website: http://emotoai.com/
About the Innovation by Design Awards
Now in its fifth year, the Innovation by Design Awards program, honors the most innovative and disruptive design solutions to today's business problems. Innovation by Design is the only competition to honor creative work at the intersection of design, business, and innovation, recognizing companies solving problems through design.
A list of this year's winners, finalists, and honorable mentions can be found online (https://www.fastcompany.com/innovation-by-design/2018) or in the October 2018 issue of Fast Company, which hit newsstands September 18th.
This year's judging panel selected the finalists from more than 1,700 international submissions across 11 categories.