Inviting Clients for 2019 HCI Capstone Projects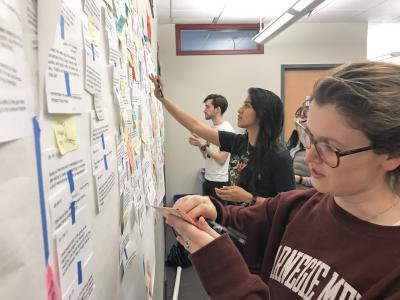 Sponsors Needed for Student Projects
The Human-Computer Interaction Institute is currently seeking client sponsors for spring semester 2019 projects.
Capstone projects are a partnership that benefit both parties -- project sponsors get hundreds of hours of skilled research and development, while our students gain valuable experience working on a real-world project.
If you are interested in partnering with the HCII this spring, details about the undergraduate and graduate level HCI capstone projects are below.
Undergraduate Human-Computer Interaction Capstone Project
We are looking for 6 to 8 project clients for the spring semester 2019.
Our talented undergraduate HCI students have improved the features of Resy, the popular reservation app, built the controls for a kid-oriented robot, designed an interactive exhibit for the Carnegie Museum and built an application to help players on the Pittsburgh Steelers NFL team to learn their playbook. Other prototypes built by our student teams include a video game to help orthopedic surgery patients with their rehab exercises and novel controls for a robotic arm for quadriplegics.
OVERVIEW:
Each spring semester, teams of 4 to 5 seniors from several disciplines (Computer Science, Design, Psychology, Information Systems, and more) majoring in Human-Computer Interaction at Carnegie Mellon complete a semester-long project for an internal or external client. Projects involve several phases: user-centered research to assess needs, interaction design, prototyping, and several rounds of user testing and redesign. The final deliverable is a functional prototype with complete documentation of research and code, which clients often turn into fully functional products by hiring one or more members of the project team for the summer.
REQUIREMENTS:
Projects begin in mid-January and finish in early May. The best projects for students and clients tend to be well-scoped from the beginning, based on an existing product, balancing flexibility and structure. Although clients do not pay for the projects, they must commit to weekly contact with their student team, with at least one person on the client side who will spend a few hours per week providing materials, software, and feedback to the students (as needed).
COST:
Free!
NEXT STEPS:
If you have a project that could benefit from the expertise of our students, please email Associate Professor Vincent Aleven [with "Undergraduate Human-Computer Interaction Capstone Project" in the subject line]. Be sure to include the contact information of your intended client liaison, as well as a short (1 to 3 paragraph) description of your project by November 16, 2018. We will invite 6 to 12 potential clients to give a very short presentation to the students in early December. The students will then vote their preferences, and projects will be selected and student teams formed prior to winter break.
Master of Human-Computer Interaction Capstone Project
The MHCI Capstone Project is the premier engagement with the Human-Computer Interaction Institute, delivering the greatest educational benefit to the students and deepest exploration for industry partners. Capstone Projects provide fundamental integration between a student team, faculty mentors, and a corporate sponsor, focused on an area of exploration and design development driven by the industry partner.
The equivalent of a masters thesis, the Capstone serves as the culmination of the student's MHCI experience and is often a means by which corporate sponsors can explore products, services, and emerging technologies that may not fit into their existing roadmaps. Capstone projects have been used to invigorate existing teams or to supplement corporate partners without an internal experience team. Over the 23 years of the MHCI program, students have worked with clients ranging from early stage startups and non-profits to global tech giants, to create a variety of solutions to past MHCI Capstone projects.
OVERVIEW:
The duration of an MHCI capstone project is 8 months. A team of 4 to 6 students and 2 faculty advisors is assigned to each project. The project sponsor is expected to serve as a domain expert and provide regular critique and collaboration with the team.
(For shorter duration projects, sponsors can also consider Independent Studies and Externships, which range from 1 to 3 months. See: Doing Research with Us.)
COST:
A gift to the university as defined with the CMU team.
NEXT STEPS:
For more information about sponsoring an MHCI capstone project, please let us know that you're interested before November 15, 2018 by contacting Alumni and Corporate Relations Coordinator Jessica Stanley.