Meet Andrew McHugh, Co-author of "The Book of What If…?"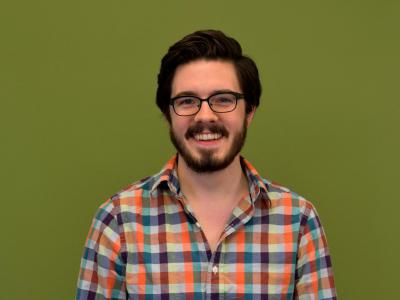 "What if everything could communicate?" This is just one of the questions posited by Human-Computer Interaction Institute (HCII) master's student Andrew McHugh in his recently published book, "The Book of What If…?" Co-authored with McHugh's undergraduate professor Matt Murrie, "The Book of What If…?" asks over 80 thought provoking, wildly imaginative questions meant to sharpen children's critical thinking skills and provoke meaningful conversations and activities. McHugh explains the inspiration for the book and the creative process while asking a few "what if?" questions of himself.
What If I Can Make a Difference?
"I've always been interested in how different interests are related; how physics can be applied to philosophy, or math to social justice, " says McHugh, a double major in philosophy and the science of technology and a double minor in physics and math. Now he is working on adding a Masters in HCI to the mix. "For me, human-computer interaction is a means for me to make a positive impact on our shared technological futures."
The goal to make a positive impact was also the inspiration for the What If…? Conference, founded by McHugh and Murrie while McHugh was completing his undergraduate degrees. The conferences, similar to, yet structurally different from TED, are interactive events that are meant to foster innovation and "bust stale thought processes."
McHugh credits his experience creating and launching the conferences as well as co-authoring the book for providing him with the courage to pursue another adventure: graduate school.
"My experiences writing the book and hosting the conferences has taught me, if nothing else, that your dreams aren't that far away. When it comes to certain things, I think we have a tendency to say, 'that's something other people do, not me.' Whether that's how we talk ourselves out of writing a book, starting a business, running for election, going back to school, or any other dream. After achieving some of these, it makes similar ones seem less daunting and more possible."
Though he may have experienced the same doubts, what if I don't get in, which plague many college applicants, McHugh applied and was accepted to the Masters of Human-Computer Interaction Madeira program, a dual masters degree born from the partnership of the HCII and the University of Madeira. In graduate school, he believes his critical thinking skills are serving him well.
"One way the practices and techniques from the book apply really well is to brainstorming and asking questions in an industry setting. Even if I am just working through a wireframe, I find myself going back to look at things deeper, to not accept a decision or design without questioning why it's there and if it should be different first."
This discipline will serve him well as he and the other MHCI students in both the Pittsburgh and Madeira program prepare for their Capstone project, an 8-month industry project that serves as the hallmark course for the program. The project requires extensive research phase, something that McHugh is familiar with after writing a book.
What If I Can Inspire Others?
"There were times when I would have to scour countless news articles, books, podcasts, and videos to try to find sources I came across up to five years ago. That was a challenge," said McHugh. Overall, he describes the process of writing a book as enjoyable and a unique opportunity to learn about and research questions inspired from the world around him. "Making complex concepts understandable, is who I am."
For to-be innovators, McHugh's advice is to keep asking questions and ask them as often as you can. His belief is that continually asking questions can help you see doors where other people don't. "If you are not just the person receiving information, but you are engaging people as an equal, asking critical questions, then you can start seeing and opening up more opportunities and paths."
McHugh is currently a graduate student in the Carnegie Mellon University Masters of Human-Computer Interaction Madeira (MHCI-M) program and is interested in work as a virtual reality user experience designer. You can read more about Andrew McHugh on Medium, where he frequently posts his thoughts and questions the world around him. The Book of What If?...was published in April and is available on Amazon or at Barnes & Noble.