The MHCI Program Welcomes Lee Hillman and Skip Shelly to Leadership Team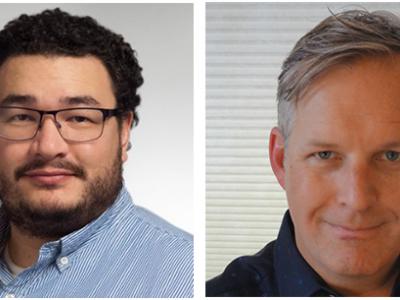 The Human-Computer Interaction Institute is excited to announce additional leadership for the Master of Human-Computer Interaction program. MHCI alumnus Lee Hillman will be starting as the executive director for the MHCI program beginning May 2017 and will join newly appointed Faculty Director Skip Shelly, who previously worked with the MHCI capstone course as adjunct faculty. Nicole Willis, MHCI associate director, and Jenn McPherson, program coordinator, complete the MHCI team.
Hillman returns to the HCII after graduating with his master's degree in human-computer interaction in 2010. Leveraging his background and industrial design, Hillman has developed a unique understanding of user-centered methodologies, with a special interest in the interplay of hardware and software. Prior to joining the MHCI team, Hillman led the user experience team as vice president of user experience in digital payments at Mastercard.
"I was humbled when I was approached by the team here at CMU, and I am really excited to be taking my next step here with these brilliant and inspiring people," said Hillman.
Hillman's role as executive director will work closely with that of Shelly's, who started as faculty director in 2016. Over the past four years, Shelly has been an important influence on the program as an adjunct faculty member for the capstone course. He is a 30-year veteran of human-computer interaction and has held leadership positions at the Software Engineering Institute, MAYA Design, LotterShelly and Summa Technologies.
"I first met Lee when serving as adjunct for the capstone team on a project with Mastercard. His strategic thinking, technical knowledge and boundless energy are critically important for growing the MHCI program and assure that our students are positioned as human-computer interaction leaders and rise to the challenges of computational design, IoT, conversational commerce and social design among many other opportunities", said Shelly.
The expansion of the MHCI leadership positions comes from both a rising influence of human-computer interaction in academia and industry, as well as the growth of the MHCI program.
"More and more businesses realize that experience is a key competitive differentiator1," said Hillman. "The need for qualified experience practitioners continues to grow across industries. Our job at CMU is to respond to these market needs while continuing to raise the bar for our students."
Since its first class in 1996, the MHCI program has been built on an incredibly rigorous curriculum and an industry-focused application of core HCI and UX methodologies. All MHCI students complete a 7-month capstone course, a research and development project for a real-world client. It's this foundation, Hillman believes, that allows MHCI graduates to thrive in the midst of the extremely rapid technological changes of today's industry and to respond with an expertise, confidence and agility that is difficult to match.
"We are immensely proud of what MHCI has accomplished as the prominence of our field has grown, but we're even more excited about what's next for the program and the HCII," said Hillman.
Nicole Willis, who has spent the last ten years working unceasingly to grow and improve the MHCI program as its associate director, sees good things in the future.
"I am excited to see the stage set for the next decade of MHCI education with this amazing new leadership team. It is a very exciting time to be at the MHCI program," she said.
For more information about the MHCI program within the Human-Computer Interaction Institute, visit the MHCI pages.
1Statistical evidence of increasing human-computer interaction and human-centered design importance among executives represented in John Maeda's 2017, 2016 and 2015 Design in Tech Reports.