MHCI Students Raised Over $6,000 for Extra Life in 2018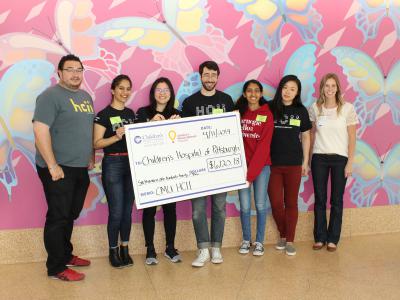 A group of masters students recently traveled to Lawrenceville to present a large check to the Children's Hospital of Pittsburgh Foundation, a symbol of their successful fundraising efforts last semester.
Inspired by the Master of Human-Computer Interaction (MHCI) Class of 2018's success in raising $5,295, the current class of MHCI students set a goal of raising $5,500 during their Extra Life gaming marathon on November 10, 2018.
"Helping raise money for UPMC Children's was such a satisfying experience for me personally," said MHCI student Ritu Parekh. "Though staying up all night was incredibly difficult, our network of MHCI students and alumni, their friends and family, as well as HCII faculty was so supportive, which really helped motivate us through the night. The most exciting part of the event was in the morning when we crossed our goal of $5,500."
After a steady 24-hour stream of playing games in the MHCI lab, the team gained momentum and continued to bring in donations throughout the day after their fundraiser, ultimately raising a total of $6,120.18.
Extra Life is a global community that unites people to host gaming marathons to raise funds in support of their local Children's Miracle Network Hospitals. Each year, more than 10 million kids in North America enter a children's hospital, and thanks to the Children's Miracle Network, every child will be taken care of regardless of insurance or ability to pay.
In 2018, Extra Life charity gaming events here in Pittsburgh raised a total of $163,439.93. Team MHCI proudly made a big impact on the local Pittsburgh community, leading the way in the team category, and coming in as the second highest fundraiser overall.
"It is so inspiring to see the HCI community come out for this event. We are honored to be called out as one of the top donors for this year," said Executive Director of the MHCI program, Lee Hillman, who for the second year in a row, stayed awake for the duration of the event. "We're looking forward to continuing to raise the bar and turn this into an HCI tradition for years to come."
Behind the scenes, the MHCI Extra Life event came together thanks to the work of a few dedicated people from the MHCI program. In addition to their already busy grad student lives, they planned an hourly game schedule, maintained the technology for the live streaming on Twitch, purchased snacks to keep everyone going, and showed up at the lab when the day came, ready to have fun.
According to the students, highlights of the event included many enthusiastic rounds of Just Dance, a competitive 16-player Pokken Tournament, and winding down the final hours of the event playing Overcooked.
"I wouldn't say I'm a big gamer but the event was so much fun to put on," said MHCI student Dylan Smith. "It was great seeing people come in and play their favorite games, all for a good cause. I would highly recommend getting involved and/or attending Extra Life next year."
Students got to see the good cause first-hand during their hospital tour with Lynsey Kriegel, development coordinator at Children's Hospital of Pittsburgh Foundation.
"Extra Life is important to Children's Miracle Network Hospitals because it supports our 'unrestricted funds', which means that the hospital decides where and how to spend the money to ensure the dollars raised will make the biggest impact in the lives of the kids they treat. Children's Hospital of Pittsburgh Foundation is so grateful for the support and dedication from the gaming community to ensure that our hospital has the ability to continue to transform young lives through unparalleled care," Kriegel said.
Congratulations on another successful Extra Life event, MHCI students.
Learn more about Extra Life
Extra Life fundraising helps to support the most urgent needs of Children's Hospital of Pittsburgh of UPMC – needs that insurance does not cover, but that make the hospital a special place of hope and healing for patients and families. From providing vital funding for medical equipment to educational assistance and support for families adjusting to illness and hospitalization, each contribution makes a significant difference! Learn more about how the funds raised will make a positive impact at the hospital.