Myers Earns 2017 SIGCHI Lifetime Achievement in Research Award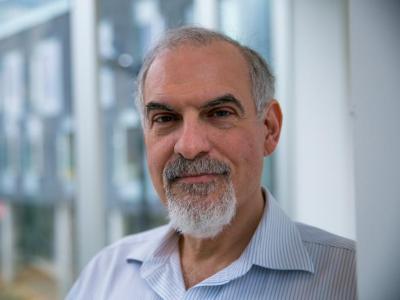 Brad A. Myers, Professor in the Human-Computer Interaction Institute, has been named the recipient of the 2017 SIGCHI Lifetime Achievement in Research Award. Presented annually by the Association for Computing Machinery's Special Interest Group on Computer-Human Interaction, the award recognizes an individual for the very best, most fundamental and influential research contributions to the human-computer interaction field. It is the most prestigious award given by SIGCHI.
Myers is a prolific user interface software researcher and is well-known for his influential work with programming by demonstration and UI development tools. He was also one of the early researchers on innovative uses for handheld devices, such as Palm Pilots. While working for PERQ Systems Corporation, Brad created one of the first commercial window managers with a number of features that later became widespread. His Ph.D. dissertation from the University of Toronto featured an interactive tool called "Peridot," a programming-by-demonstration system that allowed users to specify the look and behaviors of widgets without conventional programming.
In 1987, he joined the Carnegie Mellon community where he created the "Garnet" and "Amulet" toolkits, two widely-used interactive development environments for UIs, which incorporated novel designs for objects, constraints, output handling, input handling, command objects, and interactive tools. Many of the innovations in these projects have been adopted by later research and commercial systems.
Myers most recent research focuses on applying HCI techniques for improving programming for novice, expert, and end-user programmers. For example, taking a more human-centered approach by studying how people perform tasks and then designing languages and programming environments around people's natural tendencies.
"Brad is very deserving of the SIGCHI Lifetime Research Award," HCII Director Anind Dey said. "He has been building tools to help programmers, data scientists, and end users perform their tasks for over 40 years! His work on supporting programmers has been particularly impactful in the commercial world and it continues to inspire researchers in the HCI and software engineering communities around the world."
A member of the CHI Academy and a Fellow of the IEEE and ACM, Myers is the winner of nine Best Paper awards and three Most Influential Paper awards. He is the author or editor of 475 publications, including 85 at CHI, and is one of a select few who has attended every CHI conference. Myers has served on the editorial boards of six journals, including HCI, ToCHI and IwC. Additionally, he has advised over 200 students, including 16 PhD students, many of whom are also professors or are at top research labs.
"The HCII at CMU is the best place in the world to do my kind of research, which has aspects at the intersection of software engineering and HCI," Myers notes. "In addition to having great students here, there are great collaborators across all the topics of HCI and software engineering."
Myers will receive the Lifetime Achievement in Research Award at the 2017 ACM Conference on Human Factors in Computing Systems (CHI2017), which will be held May 6-11, 2017 in Denver, Colorado. For more information regarding research from Myers, visit his website.