Networking Event Connects HCI Students with Employers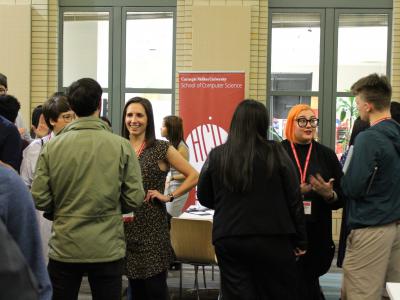 From undergrads to PhDs, more than 110 students attended the Human-Computer Interaction Institute's informal networking event, HCII Connect, last week. The third annual event was held on Wednesday, February 21, 2018 in the Atrium of Newell-Simon Hall at 5:00 p.m.
Increased employer interest in this year's HCII Connect prompted organizers to move the event to a larger venue just a few weeks before the event. The event saw more than 40 percent increases in both student attendance and employer registration this year.
HCII Connect is just one event during the broader Creative Arts Opportunities Conference (CAOC), Carnegie Mellon University's spring recruitment event for students interested in creative industries. Carnegie Mellon University's Career and Professional Development Center (CPDC) hosted a more traditional career fair the following day. Many employers attended both events.
To view images and video from the HCII Connect event, visit the HCII Facebook page.