Operating Your Smart Watch with the Hand That Wears It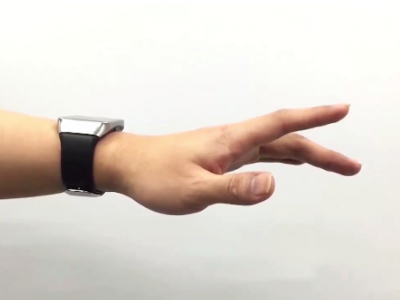 Despite the increasing number of smart watches entering the market, these wearable devices are all facing similar challenges for users; small screen sizes and limiting device operation to one hand are just two of the common issues that frustrate watch users. However, research from a team of Human-Computer Interaction Institute faculty and students means to mitigate these frustrations. Their research project, Serendipity: Finger Gesture Recognition Using an Off-the-Shelf Smartwatch, not only provides more space than the typical watch interface, but recognizes gestures from the watch-wearing hand.
The technology leverages out-of-the-box functionality, like gyroscopes and accelerometers, from smart watches. Unlike other gesture recognition features, the HCII used machine learning to teach a Samsung Galaxy Gear smart watch to recognize relatively fine gestures like a pinch and tap.
"We wanted to do gestures that are not awkward for people to do while they're on their smart watch," says Julian Andres Ramos Rojas, an HCII Ph.D. student.
For more information about this research project, visit the recent article "How to Operate Your Smart Watch with the Same Hand That Wears It," from the MIT Tech Review.