RoboTutor Team Awaits Global Learning XPRIZE Results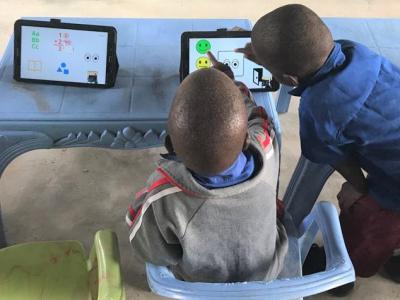 Winning Team Gets $10 Million, but Ultimate Goal Is Boosting Literacy for Millions Worldwide
Team members of RoboTutor LLC — who have spent years developing open-source software that children can use to teach themselves basic reading, writing and mathematics — are anxiously awaiting the results of the Global Learning XPRIZE competition.
RoboTutor, based at Carnegie Mellon University, is one of five finalists in the international competition. Following a 15-month, large-scale field trial in Tanzania that involved thousands of children, XPRIZE will announce the trial results and the winner of the competition's $10 million prize on Wednesday evening, May 15, during a ceremony in Los Angeles.
"Our goal was always to win the competition, but win or lose, this has been a tremendous experience for all of us," said Jack Mostow, research professor emeritus in the Robotics Institute and leader of the RoboTutor team. "We believe the work by all five teams will have enormous benefits for millions of children around the world who otherwise face a future dimmed by illiteracy."
Each team was tasked with creating Android tablet apps in both Swahili and English that could be used by children ages 7–10. The idea was that children presented with a tablet could learn basic literacy and numeracy skills without need of adult supervision. That's essential in areas of the world where few teachers, if any, exist.
"We know that kids who used RoboTutor benefited from it," Mostow said, based on the app's internal processes for assessing student progress. "But we also know that there was attrition over the 15 months, as the novelty wore off and some kids stopped using it. The real answer to how effective these apps are will come from the post-test that XPRIZE administered following the field test. Obviously, we can't wait to hear those results."
Those findings and the grand prize winner of the Global Learning XPRIZE will be announced at 9:30 p.m. EDT Wednesday, May 15, and will be streamed on YouTube Live.
RoboTutor LLC is a CMU spinoff, created by Mostow for the competition and based on decades of research on human learning. It received early support from CMU's Simon Initiative and licensed some of its technology from the university. More than 180 people from CMU, the University of Pittsburgh and other institutions around the world contributed to the team.
Norman Bier, executive director of the Simon Initiative, said RoboTutor development proceeded according to the learning engineering process that CMU has pioneered: instrumented capture of learning data, analysis of that data and then using the analytics to improve learning.
RoboTutor software is part of the OpenSimon Toolkit, a suite of tools, educational resources and underlying codebase that the Simon Initiative is making freely available in hopes of catalyzing a revolution in learning and teaching for the world's educational institutions.
Almost 200 teams from 40 countries entered the competition. XPRIZE selected RoboTutor and the other four finalists in September 2017 and gave each finalist $1 million to further develop their apps. The RoboTutor team worked with Swahili-speaking children and staff in the Tanzanian towns of Bagamoyo and Mugeta to prepare for the field test.
RoboTutor is the only team among the five finalists based at a university. Two other U.S. teams were fielded by educational technology companies, while an Indian team and a British team both were formed by nonprofit educational organizations.
RoboTutor is based on decades of research on human learning, including Reading Tutor, an automated system developed by Mostow's Project LISTEN team that helped children learn to read. RoboTutor employs artificial intelligence to recognize children's speech and handwriting. It includes a number of activities that children can choose that help develop reading, comprehension and numeracy skills. It assesses each child's performance, providing help when needed and adjusting the activities to match the student's skill level.
"It was up to us to make software engaging enough that the children would use it and effective enough that if they used it they would learn," Mostow said.
The team also adapted the software to Tanzanian culture, an effort spearheaded by Amy Ogan, Thomas and Lydia Moran Assistant Professor of Learning Science in the Human-Computer Interaction Institute (HCII).
For instance, during the initial beta trials conducted by Ogan and Judith Uchidiuno, the project manager and a Ph.D. student in HCII, the children were handed RoboTutor-equipped tablets. But the children wouldn't touch the tablets. Only after 45 minutes, when Ogan and Uchidiuno told them to tap on the tablets, did the children feel they had permission to do so.
"I can't imagine an American kid sitting for 45 seconds without tapping on a tablet," Mostow said.
In addition to Mostow, Ogan and Uchidiuno, key members of the RoboTutor team include Leonora Anyango-Kivuva, a consultant for the National Foreign Language Center, a former Swahili instructor at Pitt and the voice of RoboTutor; Judy Kendall, director of Anchor of Hope Charities in Indianapolis, Ind.; Kevin DeLand, software architect and developer; and Janet Mostow, enterprise architect and RoboTutor LLC board member.