SCS Students Named 2020 Siebel Scholars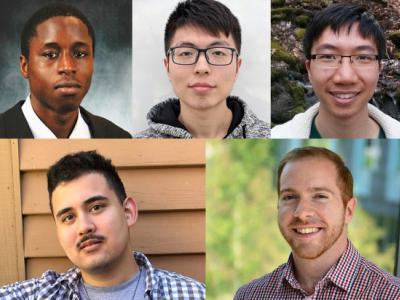 Six Carnegie Mellon University students — five of them from the School of Computer Science — have been named 2020 Siebel Scholars, a highly competitive award that supports top graduate students in the fields of business, computer science, energy science and bioengineering.
Established in 2000 by the Thomas and Stacey Siebel Foundation, the Siebel Scholars program awards grants to 16 universities in the United States, China, France, Italy and Japan. The top graduate students from 27 partner programs are selected each year as Siebel Scholars and receive a $35,000 award for their final year of studies. On average, Siebel Scholars rank in the top five percent of their class, many within the top one percent.
Among the 93 total scholars are School of Computer Science students Michael Madaio, Eric Wong, Ken Holstein, Junpei Zhou and Amadou Latyr Ngom. They're joined by Elizabeth Reed, a Ph.D. student in the Department of Engineering and Public Policy.
Human-Computer Interaction Institute (HCII) Ph.D. candidate Michael Madaio researches the design of algorithmic systems in the public sector, focusing on literacy education in developing countries. He was a research intern at the United Nations Institute for Computing and Society, and Microsoft Research's Fairness, Accountability, Transparency and Ethics in Artificial Intelligence group. He completed his master's degree in digital media studies at Georgia Institute of Technology, and a master's in education and a bachelor's in English literature at the University of Maryland, College Park.
Eric Wong is pursuing his Ph.D. in machine learning. In 2012 he began researching the problem of molecular energy optimization, developing specialized kernels for geometrically structured data. He is currently interning at Bosch to bring advancements into the automotive industry with work on real sensor systems, both visual and physical.
Ken Holstein, a fifth-year HCII Ph.D. student, is also a fellow of the Program in Interdisciplinary Educational Research (PIER). He has interned at Microsoft Research and holds a bachelor's degree in psychology from the University of Pittsburgh and master's in human–computer interaction from CMU.
Language Technologies Institute master's student Junpei Zhou researches social good by using natural language processing and computer vision techniques. He has worked on flu forecasting and a public safety project to automatically pick up tweets to help police officers better handle emergency events. He has interned at Google and Alibaba, and holds a bachelor's degree in computer science from Zhejiang University.
Amadou Latyr Ngom is pursuing his master's degree in the Computer Science Department at CMU. His research interests include applying compiler techniques to accelerate query execution for in-memory database management systems. He has interned at Zillow and Pure Storage, and graduated with a bachelor's degree in computer science from CMU.
"Every year, the Siebel Scholars continue to impress me with their commitment to academics and influencing future society. This year's class is exceptional, and once again represents the best and brightest minds from around the globe who are advancing innovations in healthcare, artificial intelligence, the environment and more," said Thomas M. Siebel, chair of the Siebel Scholars Foundation. "It is my distinct pleasure to welcome these students into this ever-growing, lifelong community, and I personally look forward to seeing their impact and contributions unfold."
For More Information