Support HCI Team and Stroke Patients by Voting in Chasing Genius Innovation Challenge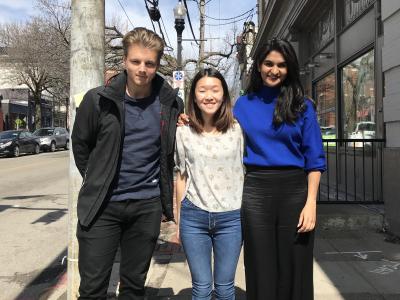 Uprooting beets on an augmented reality farm could soon help recovering stroke victims improve their motor skills if a team of human-computer interaction students receives enough votes by tomorrow night. The team of three Carnegie Mellon HCI students behind Wabbit, one of only ten finalists remaining in the National Geographic CHASING GENIUS: UNLIMITED INNOVATION idea challenge, is currently in fourth place.
"Stroke is the leading cause of disability in the United States," according to the Wabbit team's video. "Full stroke recovery can take years, and only the first few weeks are typically paid for by insurance."
As a result, at-home rehabilitation is incredibly important to the patient's development, but the exercises are challenging and the routine can be repetitive.
The team of Carnegie Mellon University students is comprised of graduate students Ketki Jadhav (MHCI, class of 2018) of India, Marvin Kennis (MHCI, class of 2018) of the Netherlands, and undergraduate student Tiffany Chen (information systems & HCI, class of 2019) of California.
Students created the project for the masters of human-computer interaction course Interaction Design Studio 2 (IXD2) under the guidance of instructor Ellen Ayoob.
"I'm thrilled Ketki, Marvin and Tiffany are finalists," said Ayoob, faculty mentor on the project. "Through diligent design research and borrowed gaming metaphors, their mobile app prototype plugs a gap in health care for recovering stroke patients who need therapeutic help at home. They not only fulfilled the project goal of finding value in a new service, they found human value, which is at the core of what we do. I hope they get the opportunity to pursue the work further."
The team was assigned to apply emerging technology to create a solution for any aspect of the Comprehensive Stroke Centre at Allegheny General Hospital in Pittsburgh.
"As challenging as this brief was since none of us came from a medical background, we decided to tackle this by doing intense research through literature reviews, competitive analysis and interviewing Dr. Eugene Bonoroti, a neuro physician from the Allegheny General Hospital," said team member Ketki Jadhav.
The team learned through their research that stroke recovery is a long process that requires hard work.
"Many of the patients find it very hard to stick to their routines because they tend to get boring. This can cause serious consequences like losing the ability to recover a certain body part completely, or even worse, a second stroke," Jadhav said.
The Wabbit game uses augmented reality (AR) to make stroke recovery exercises more engaging, fun and motivating. AR technology superimposes a computer-generated image onto the patient's screen view of their actual environment, which creates a composite view of both the farm graphics and the patient's reality.
Small farms are augmented throughout the patient's home environment to create an immersive experience. Each day, patients are given playful tasks, such as uprooting beets, feeding chickens or picking apples -- all of which mimic a recommended movement for motor skill recovery.
By gamifying the exercises, the team hopes to make the patient forget that they are actually doing physical therapy.
In addition to completing daily exercises, caregiver support and motivation are also important components in a stroke patient's rehabilitation and recovery plan.
Research indicated that many patients do not have the support of a caregiver, which inspired the team to include emotionally-supportive language and a daily progress report to keep patients motivated.
Winning the challenge's $25,000 prize purse is important to the team.
"Since we came up with the idea, we have been very excited by its potential for helping stroke patients in an engaging manner. Winning the prize will not only give us a massive public validation that the idea is something people would like to see, but also help us figure how it can actually be taken forward for implementation," Jadhav said.
Hundreds of ideas were submitted to the CHASING GENIUS: UNLIMITED INNOVATION idea challenge. Votes from the CHASING GENIUS: UNLIMITED INNOVATION Council and the public have now narrowed the field to ten finalists. The winning team will be chosen based on public voting through March 20, 2018. The winner will be announced on March 21st.
Watch the Wabbit's video and cast your vote (once daily) here: https://www.natgeochasinggenius.com/video/3881