Valencia named to "Innovators Under 35 Latin America 2017"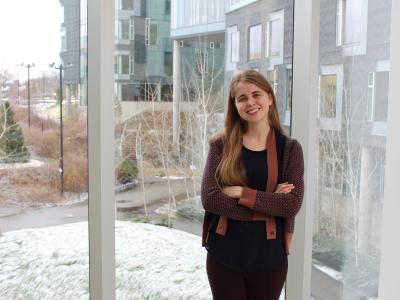 First-year Human-Computer Interaction PhD student Stephanie Valencia Valencia was named to the MIT Tech Review's Innovators under 35 Latin America 2017 for her work on the "ijwi" device.
Ijwi, which means "voice" in the language of Kinyarwanda, is the apt name of Valencia's device because it gives a voice to those who cannot speak due to non-verbal autism or cerebral palsy.
"The TR35 Award is one of the top recognitions that a young person working in technology can receive. This award reflects the innovation and impact of Stephanie's work," said Jeff Bigham, associate professor of HCII. Valencia is being co-advised by Bigham and Henny Admoni of the Robotics Institute.
A native of Colombia, Valencia, 26, studied biomedical engineering in a joint program between an engineering school (EIA University) and a medical university (CES University).
During her first semester as an undergraduate student, she worked on a project called CREARTE, a BINGO-like board game to teach color theory using only touch.
"Building Crearte was a fantastic experience," said Valencia. "It allowed me to participate in a student design competition at the 2013 RESNA conference (Rehabilitation Engineering & Assistive Technology Society of North America) and travel to my first conference about assistive technology and accessibility."
The need for this type of work is significant. Eighty percent of the one billion people in the world with a disability live in developing countries, yet only ten percent of those have access to the tools or technologies necessary to improve their conditions of life.
When Valencia returned from the conference, it was only the beginning of her work developing assistive technologies.
"I decided to enroll in a rehabilitation engineering class in my school. One of the designs that led to ijwi and inspired me to come to the field of HCI was my undergraduate thesis project, HEDI," said Valencia. "HEDI is a multi-sensory feedback physical interface that, through different game modes (storytelling, letter identification, and musical instruments) and the use of auditory cues, visual rewards and tactile stimulation, enables children to interact with physical objects and learn more about graphical concepts through exploration and play."
"In Colombia, and many developing countries, speech-generating devices for people with complex communication needs, as well as many other tools that enable them to participate actively in society, are a luxury when they should be a right," said Valencia. "There are many challenges in the provision of assistive technologies in low and middle income settings, products are priced too high and in subsidized developed markets there are no incentives for developers to create low-cost products, even when the technology is already there," said Valencia
Following her graduation, Valencia spent a couple years at Yale University as a research fellow in the Child Study Center. During this time, she received an email through the RESNA listserv which connected her with her partners who were working with an international NGO supporting inclusive education in Rwanda.
"There is a need for context-appropriate accessible solutions and that is were ijwi was born -- seeking to democratize access of assistive technologies through open source, co-designed devices," Valencia said.
The team initially envisioned a one-size-fits-all tablet app, but upon learning more about the context through their local partners in Rwanda, Valencia and her teammates had to reevaluate.
The new solution was ijwi -- a low cost device that runs on batteries (because electricity isn't available in schools) and open source code (to keep costs down) and to allow easy maintenance and customization.
Although Valencia and some of her team have since stepped away from ijwi to pursue graduate school, she is enjoying the balance and rigor of the HCII PhD program so far.
"I wanted the opportunity to explore designing for people with different types of abilities, while also gaining the technical skills needed to advance the current state of assistive device technologies," said Valencia.
Valencia traveled to Mexico City in November to receive the award and give a 3-minute pitch presentation about ijwi.
Congratulations, Stephanie.