Zimmerman, Forlizzi Co-Author Encyclopedia Chapter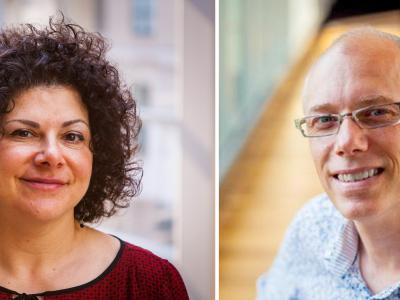 The newest chapter of the online Encyclopedia of Human-Computer Interaction, 2nd Edition was written by HCII professors John Zimmerman and Jodi Forlizzi.
"Service Design," which is chapter 53 in the encyclopedia, covers everything from key service design concepts to projections about the future of design practice, education and research.
This chapter is an important addition because service design differs from other design concepts already covered in the encyclopedia, including product design and user experience (UX) design.
"All of the new tech that HCI helps to make is either a service or it is a product that functions within a larger product-service system. The future of user experience design and of HCI is service design," said Zimmerman, Tang Family Professor of Artificial Intelligence and Human-Computer Interaction at Carnegie Mellon University.
Former CMU School of Design faculty member Shelley Evenson recognized the importance of service design in the early 2000s and added it to the CMU curriculum. She led efforts to start service design in the US, including the creation of Emergence, the first US service design conference held in Pittsburgh in 2006.
Since then, the HCII and the School of Design have continued to shape the professional practice of service design. Current HCI course offerings include: Service Design, Digital Service Innovation, and Design of AI Products and Services. Two of these courses (Service Design, which focuses on how to innovate already existing services, and Digital Service Innovation, which focuses on how to create a service startup) are required for the new Master of Science in Product Management major, a one-year degree program jointly offered with the Tepper School of Business.
In addition to semester-long service design courses, the HCII teaches service methods and service thinking in all interaction design studio courses.
The chapter authors Zimmerman and Forlizzi, Geschke Director and Professor at the HCII, are co-teaching the Service Design course again this fall.
About the Encyclopedia:
The online resource Encyclopedia of Human-Computer Interaction, 2nd Edition is one of the educational materials produced by the Interaction Design Foundation, a 17 year old non-profit from Denmark with a focus on open source education.