CMU HCII Team Helps Feral Cats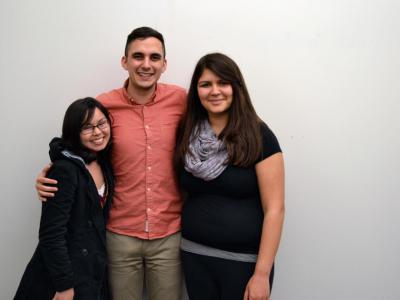 A team of CMU HCII master's students is working with local agencies to unite volunteers with the resources they need to rescue feral cats.
Feral cats — usually cats born outside without human owners or medical care — can give birth to as many as three litters of kittens each year. To control this, many rescue organizations take part in trap-neuter-return (TNR) programs. The cats are humanely trapped and taken to a shelter, where they're neutered, vaccinated and returned to their neighborhood. In theory, TNR programs should result in a feral cat population of zero.
HCII master's students Lowell Reade, Lena Malkhasian and Nissa Nishiyama teamed up with the Animal Rescue League Shelter in Larimer and Associate Teaching Professor Jenna Date to help solve the feral cat dilemma. Called Team Nala, the students hope to establish a program and website that will connect feral cat caregivers with the Animal Rescue League. The site will teach people how to trap cats so they can be neutered and vaccinated, and will connect community members with volunteers who can assist them with cat issues.
You can read more about the project — including how it grew out of Associate HCII Professor Vincent Aleven's personal experience with a stray cat — in an article recently published in the Pittsburgh Post-Gazette.