CMU's PLUS Program Expands to Multiple Schools, Community Centers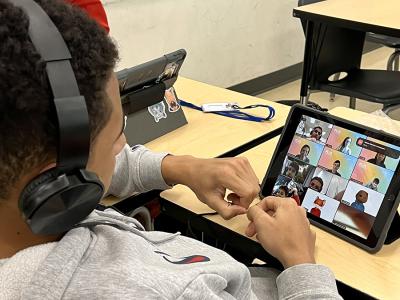 Not all students will ask for help when they're struggling, but more of them can get the support they need thanks to the expanded reach of education software designed by Carnegie Mellon University researchers.
Personalized Learning Squared (PLUS) uses software from the Human-Computer Interaction Institute's (HCII) LearnLab to improve math learning outcomes for K-12 students. Some students hesitate to ask for help in the classroom, requiring teachers and tutors to recognize when they might need to intervene to help the student grasp concepts or answer questions correctly. This is especially true in math.
The PLUS software connects students and tutors, providing real-time data about each student's activity so tutors can assist, if necessary.
"They can do more than just work with the students who, let's say, raise their hands or ask for help," said PLUS Head of Product Shiv Gupta.
Iterations of the program have been shown to double math learning among student participants. More than 5,700 students and nearly 300 mentors in 15 Pennsylvania institutions have used the software, including at LIFE Male STEAM Academy in Pittsburgh Public Schools, the program's first school. PLUS recently expanded to the Brashear Association in Pittsburgh and Harlem Lacrosse in Philadelphia, both community centers; and Prince George's County Public Schools in Maryland, Central Unified School District in California, The Neighborhood Academy in Pittsburgh and the School District of Lancaster.
This past spring, CMU students served as tutors for about 60 seventh-grade students in four classes at a middle school in the School District of Lancaster as part of a pilot program to bring PLUS to the district this fall.
"This is really complementing the learning and providing students that additional opportunity in an innovative way," Director of Schools Camille Hopkins said. "It's just another entry point for success that our students don't always get."
The expansion to Lancaster comes after a year of planning and relationship-building, including on-site visits. This effort allowed teachers interacting with both students and tutors to understand the program and strengthen its benefits.
Hopkins said it was worth the wait.
"We wanted to make sure that we had answered all the questions, because this was new and innovative for our school," she said. "We wanted to make sure we had the right teacher buy-in because we know that's the key to any successful program."
The tutors are CMU students recruited in entry-level undergraduate classes and by word of mouth. They commit to a full semester of tutoring sessions, have to pass background checks, and receive training. They not only brush up on the basics of math, but also review tenets of culturally responsive learning and social emotional learning.
PLUS recently added a full-time tutor supervisor to the staff to continue to recruit, retain and support college-student tutors, who are paid for working two to four hours each week to connect remotely for their sessions.
"They click a button, and they are there, ready to support students as the students need it in real time," said Danielle Thomas, research lead with PLUS and a systems scientist in the HCII.
For the middle-school students, making a personal connection with their tutors was as important as learning their math lessons.
"This gave our students a different way of looking at themselves as mathematicians, even after only a few weeks," Hopkins said, adding that she noticed it was particularly powerful when tutors who could speak Spanish connected with Spanish-speaking students. "The students' reactions speak for themselves. They look forward to the tutoring sessions. It's not just about math. It's about relationships. It's about building confidence."
Gupta said plenty of programs aim to work with big-city school districts, but connecting remotely has allowed PLUS to work with districts like Lancaster, a mid-sized urban district serving about 10,000 students, including many immigrant and migrant students. Demand is high. There is a waitlist for schools from five states, and the program is on track to reach its goal of doubling the rate of math learning for 10,000 students across the country by 2026.
"The mindset at Carnegie Mellon is global and worldwide. We are focused on solving big problems," Thomas said. "We're not creating small change. We want to make big change, or at least small changes on a big scale."
___
For More Information
Aaron Aupperlee | 412-268-9068 | aaupperlee@cmu.edu
by Stacey Federoff
Related People
Shivang (Shiv) Gupta, Erin Gatz, Danielle Thomas
Research Areas
Learning Sciences and Technologies