Discerning the Influence of Gender in the Effectiveness of Learning Games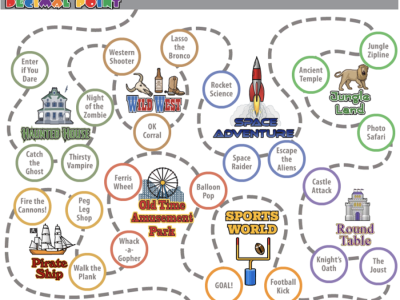 Eight years ago, Bruce McLaren's research team worked with Jodi Forlizzi, the Herbert A. Simon Professor in Computer Science, to design a mathematics learning game called Decimal Point as a platform for testing game-based and learning science principles. The game aimed to help all students, but among middle schoolers, it has helped girls more than boys.
These surprising findings prompted McLaren, an associate research professor in the School of Computer Science's Human-Computer Interaction Institute, to take a closer look at what accounts for these gender differences. His latest undertaking, which began this summer, is a three-year study sponsored by nearly $1.5 million from the National Science Foundation (NSF) that looks at gender-based differences more broadly, including considerations such as gender identity and gender-stereotyped interests or activities.
"We hadn't even queried students on anything more than binary gender," McLaren said about prior research. "Now we're going to ask more detailed questions about gender identity and gender interests and so on."
Whether this more nuanced view of gender makes a difference in learning or game design is unknown, but that isn't stopping McLaren and his team.
"It's one of those projects in which anything we discover will be interesting," he said.
Gender issues have been a hot topic in education, from concerns about which bathroom transgender youth should use to whether teachers should discuss their own sexual orientation with their students. But how gender in all of its dimensions affects learning itself has received less mainstream attention.
"Feminist researchers have been thinking about gender with a multidimensional framework for decades, but it's starting to gain more traction in other areas of psychology and education, as well as in society as a whole," said Nicole Else-Quest, a developmental psychologist at the University of North Carolina and a collaborator on McLaren's NSF study. "It's a really exciting possibility that thinking about kids' interests or what kinds of jobs interest them or how they describe their own traits might be more useful than just whether they are boys or girls."
Education research has shown that many assumptions about gender and learning, such as boys being better at math or girls being better at English and writing, are myths. Still, the stereotypes linger and can cause anxiety or expectations that have real effects on learning, Else-Quest said.
McLaren hopes the NSF study will provide principles that game designers can use to ensure that games are either gender-neutral or — in cases where the games target a particular group — that they appeal to and work with people who have the same interests or inclinations.
To do so, researchers will use both Decimal Point, which teaches the concept of decimal numbers, and Angle Jungle, a game that teaches geometric principles. Both are intended for fourth through seventh graders and employ a thematic design that includes maps and cartoon characters. Angle Jungle was developed by students of Jessica Hammer, the Thomas and Lydia Moran Associate Professor of Learning Science in the HCII and Entertainment Technology Center, and a co-principal investigator in the NSF study.
The games will be played by about 2,000 middle school students from districts in the Pittsburgh area that have worked with McLaren previously, including Steel Valley, Hopewell, Trafford, Deer Lakes, Crafton and Carmichaels.
"We hope we can make some adjustments to the games that emerge from what the data tells us about gender-related differences," he said.
Researchers will see if design principles that work on Decimal Point can be transferred to Angle Jungle, a more recently developed game that has not been extensively evaluated.
In addition to McLaren, Hammer and Else-Quest, the multidisciplinary research team includes Ryan Baker of the University of Pennsylvania, who earned his Ph.D. at the HCII and is an expert in the use of machine learning to detect cognitive and affective skills. Other members include Jon Star, a math learning researcher at the Harvard Graduate School of Education, and J. Elizabeth Richey, a cognitive psychologist at the University of Pittsburgh and one of McLaren's former post-docs.
Among the principles that might emerge from the research are insights into the pace of games, the use of techniques such as prompted self-explanation — having a student explain how they reached a solution — and choosing a game setting. For instance, Decimal Point is set in an amusement park of the same name. McLaren said it was chosen as a gender-neutral theme, but it might turn out that it particularly appeals to girls.
"One of the possibilities is that playing these learning games makes it seem like more of a game than doing math," Else-Quest said. "For girls who are aware of the stereotype that math is something they're not good at, that might mean that playing the game takes away the anxiety or stress of doing math so they can just have fun and learn."
By considering gender as a continuum rather than a binary characteristic, the researchers might be able to lend designers insight on how to tailor games more precisely.
"It could be based more on activities," McLaren said. "You might have a young girl who is interested in activities that are stereotypically male or vice versa and maybe it's at that level that we'd be able to adapt the game.
"If we understand better what games support not just young girls but also young girls with certain preferred activities or certain identities, then we can better address that population," he added. "Our understanding of that is at a very early stage."
Related People
Bruce McLaren, Jessica Hammer