Hudson Honored With 2017 SIGCHI Lifetime Achievement in Service Award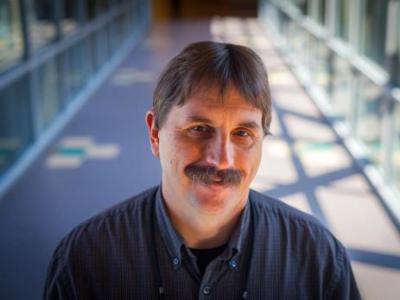 Professor Scott Hudson, a pioneer in 3D modeling, fabrication and innovative interface technology, has been named the recipient of the 2017 SIGCHI Lifetime Achievement in Service Award. The award, presented annually by the Association for Computing Machinery's Special Interest Group on Computer-Human Interaction, recognizes individuals who have been significant contributors to the growth and success of the SIGCHI's community at large. Hudson's recognition is a testament to his long-standing involvement with ACM and his leadership in the HCI field.
A founding Associate Editor for the ACM Transactions on Computer Human Interaction, Hudson is a prolific author of over 150 technical papers. He has acted at the Papers Co-Chair, Best Papers Committee Chair and Papers Committee member for 14 years for the ACM CHI conference. In 2006, he was elected to the CHI Academy. He has also acted as both General and Program Chair and been a Program Committee Member 17 times for User Interface Software and Technology Symposium (UIST).
"It's no surprise that Scott is receiving the SIGCHI Lifetime Service award," said HCII Director Anind Dey. "In addition to his amazing body of research contributions, Scott has dedicated so much of himself to the SIGCHI community, from shepherding the UIST community since its inception to his work with the CHI conference for almost 30 years. Alongside this, Scott is the Founding Director of the Ph.D. program, and has served as the director almost every year since."
Hudson is credited with founding the first Ph.D. program in the United States dedicated solely to human-computer interaction. Since the creation of the HCI Ph.D. at Carnegie Mellon University, it has graduated over 65 students and is currently educating 50 more. Hudson has served as the advisor for 18 of HCII graduates and is working with 5 current students. He is the current director of the program.
Outside of CMU, Hudson sits on the advisory board and external review board for both Georgia Institute of Technology, where he previously worked as an Associate Professor, and the University of Colorado, where he earned his Ph.D. in Computer Science, for their graduate program.
"Scott is so deserving of this award," said Brad Myers, HCII professor who nominated Hudson. "He is dedicated not only to maintaining the high quality of the ACM conferences and the other institutions to which he provides services, but also the PHD program here at the HCII. Scott has always been willing to spend the time needed to achieve this high level of quality." Brad Myers will also be honored at CHI 2017, where he will receive the Lifetime Research Award.
Hudson will receive the Lifetime Achievement in Service Award at the 2017 ACM Conference on Human Factors in Computing Systems (CHI2017), which will be held May 7–12 in Denver, Colo. Learn more about Scott Hudson on his website.