A New Way to Learn Computer Science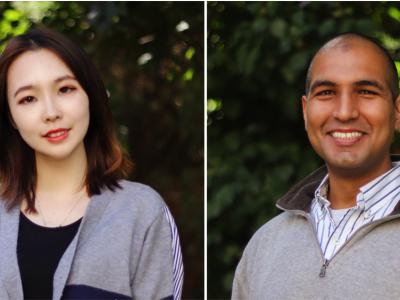 A team of Carnegie Mellon University learning scientists are developing a tool that could change the way high school teachers and students approach their computer science classes. This month Schmidt Futures announced that the team is one of the winners of their Futures Forum on Learning: Tools Competition. This prestigious award will fund tools to aid recovery from pandemic learning loss and advance the field of learning engineering.

The tool, RecapCS, was created by Ember Liu and Neil Thawani with support from John Stamper, an assistant professor in CMU's Human-Computer Interaction Institute. Liu and Thawani are both graduates of CMU's Masters of Educational Technology and Applied Learning Science (METALS) program, a year-long program that trains graduate students to become learning engineers and learning experience designers. The pair met in a METALS capstone course where they discovered a shared passion for computer science education.

Teachers and students can use the RecapCS interactive dashboard to identify problems, assess learning and lend support through a community forum.

"There is a heavy workload for teachers. It's difficult to track learning, and many teachers are not experts themselves. There is also the issue of equitable access to computer science education," Thawani said. "We wanted to address all of these problems at the high school level because that's cognitively when students are able to think more abstractly, one of the fundamental practices of computational thinking."

The RecapCS team said the tool was designed with input from high school computer science students, teachers and professional development providers. The funding from Schmidt will allow the team to expand their co-design partnerships to locations outside of Pittsburgh. By incorporating the tool into their project-based computer science classes, teachers will be able to provide a way for students to have a more meaningful and insightful learning experience.

Liu explained that one of the hardest parts of teaching computer science courses is that, by nature, projects are very individualized.

"Teachers often don't have much time to devote to each student, and it's difficult for beginners to know how to set goals," Liu said.

To solve this problem, the RecapCS team created a way for students to track their progress on a journey map and get feedback on their work from peers and teachers in the community. If a peer correctly answers a question and a student is able to apply the answer to their project, the peer is tagged as a "breakthrough hero," a motivator designed to build community.

Liu said this is a huge improvement on the method many teachers were previously using to check in on their students, usually spreadsheets in Google Sheets or Microsoft Excel.
"The tool's real-time Q&A and ability to share useful resources can foster collaboration," Liu said. "What's more, replacing traditional check-ins with more frequent and fine-grained journey maps can help students see the trajectory of their learning. Small motivators, like the breakthrough heroes feature, prompts students to record daily progress."

RecapCS also includes a virtual community of practice (VCoP) for teachers, where they can post questions and resources to a virtual cohort of colleagues and mentors grouped by district, state and professional development providers.

"It's critical that RecapCS serves as a discussion forum, but also as a place to equitably improve the practice of teaching computer science for all," Thawani said. "In the VCoP, teachers can discuss their teaching practice, but we also want it to serve as a space to find high-quality resources, customize what content they pay attention to and respect their privacy in their local and global teaching communities," Thawani said.

Stamper said Liu and Thawani's background as trained learning engineers and experience in the METALS program is part of what will make RecapCS so valuable to teachers and students. Learning engineering, a process that involves building dynamic courses guided by data, has been a hallmark of CMU's approach to education for more than 50 years.

"One thing that sets RecapCS apart from other computer science learning tools is that it was designed with a learning engineering approach. Everything that we are building is soundly based on previous and new research. This tool really reflects the best principles of learning science," Stamper said.

Students, teachers and researchers interested in using it can learn more about RecapCS here.
Learn more about Learning Engineering at Carnegie Mellon in the video below.
Learning engineering is used to make classes better every time they are taught.
Story by Caroline Sheedy