Using Foursquare Data to Redefine a Neighborhood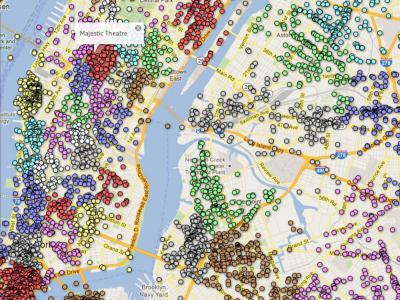 Technology Review took early notice of Livehoods, a project undertaken by Jason Hong, associate professor of HCII; Raz Schwartz, a visiting HCII scholar from Bar-Ilan University; Norman Sadeh, professor of computer science in the Institute for Software Research, and Justin Cranshaw, a PhD student in ISR.
Rachel Metz wrote, in part:
"Defining the makeup of a particular neighborhood can be tricky. Locals may agree on the general area and character of, say, Manhattan's Upper West Side, but we all have different opinions about what really goes on there, or even what its precise boundaries are.

"With this in mind, a research project called Livehoods, from Carnegie Mellon University's School of Computer Science, aims to shed some light on how people really inhabit their cities—and how this changes over time—by mapping data collected from 18 million Foursquare check-ins that have been sent out via Twitter."
Diana Nelson Jones of the Pittsburgh Post-Gazette emphasized what the Livehoods analysis had to say about Pittsburgh in her May 1 Walkabout column:
"It is a static map now, based on a year of data drawn from a rectangle whose four corners, roughly, are Verona, West Mifflin, Bridgeville and Emsworth. It will remain static during analysis of data but will one day breathe and show shifts as they occur.

"The site allows you to click on each livehood and learn about its attractions and its hourly and daily pulse.

"Shadyside has two distinct livehoods—one that doesn't spill into East Liberty and one that does, so much so that it gives credibility to the marketing designation 'Eastside.'

"The South Side has three—from about Fifth Street to 18th Street, with indications that this area is used by Duquesne University students; from 18th to 24th, a livehood that stretches across the Birmingham Bridge; and from 24th Street in a huge sprawl that goes up to Arlington and St. Clair and includes part of Hazelwood."
Several other media outlets have written about Livehoods, including the Wall Street Journal, Haaretz, the New York Post, Fast Company and The Atlantic Cities.