CMU's PLUS Program Joins Learning Engineering Virtual Institute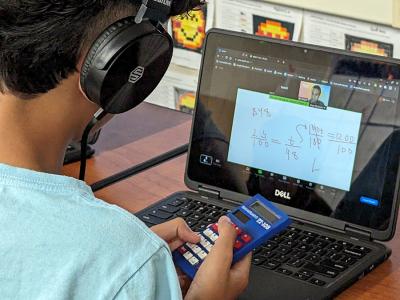 National Program Will Expand Innovative Software for Teaching Math
Carnegie Mellon University's PLUS - Personalized Learning Squared has joined the Learning Engineering Virtual Institute (LEVI) in its aim to improve middle school math education.
Developed at the Human-Computer Interaction Institute (HCII) in partnership with Carnegie Learning and Stanford University, PLUS uses artificial intelligence to augment human tutoring to improve math learning outcomes for middle school students. The program is one of seven selected by LEVI to harness the potential of AI and machine learning to drastically improve math outcomes for middle school students — with a focus on students from low-income backgrounds — by 2027.
"A previous iteration of PLUS has already proven to double math learning outcomes for middle school students. By joining LEVI, we can bring the program and tools PLUS offers to more students across the country," said Shivang Gupta, the PLUS head of product and a 2019 alumnus of the HCII's Master of Education Technology and Applied Learning Science (METALS) program. "We are excited to join LEVI and committed to helping more students improve their math skills, especially students who have been historically underserved."
LEVI aims to support interventions that will double the rate of middle school math progress for low-income students and has selected seven teams from around the world to join them. In addition to PLUS, those teams represent projects from Carnegie Learning, Eedi, Khan Academy, Rising Academies, the University of Colorado Boulder and the University of Florida. Each team has developed a different and innovative approach to doubling the rate of school math learning.
Using AI technology, LEVI teams will provide students and teachers around the world with improved tutoring services, better professional training and other important support programs to improve middle school math achievement. Within five years, these programs are projected to reach millions of students.
The PLUS software connects students and tutors, providing real-time data about each student's activity so tutors can assist when necessary. Some students hesitate to ask for help in the classroom, requiring teachers and tutors to recognize when they might need to intervene to help the student grasp concepts or answer questions correctly. This is especially true in math. PLUS makes it easier for those students to get the help they need.
Iterations of PLUS have shown to double math learning among student participants. Since joining the LEVI cohort in 2022, more than 3,000 students across Pennsylvania, California and Maryland have benefited from PLUS, and more than 500 tutors from over 50 organizations have used PLUS's free training platform. Currently, more than 85% of the students served by PLUS come from low-income backgrounds.
"Our collaboration with LEVI allows us to expand PLUS to more students," said Ken Koedinger, the Hillman Professor in CMU's School of Computer Science and director of the METALS program. "LEVI has helped create a global network of new colleagues and experts to push our thinking, share learnings and advance the field of learning engineering."
More information about LEVI, the teams and their groundbreaking projects is available on the LEVI website. For more information about PLUS, visit its website.
For More Information
Aaron Aupperlee | 412-268-9068 | aaupperlee@cmu.edu
Related People
Ken Koedinger, Shivang (Shiv) Gupta
Research Areas
Learning Sciences and Technologies