Student Spotlight: Ph.D. Candidate Nesra Yannier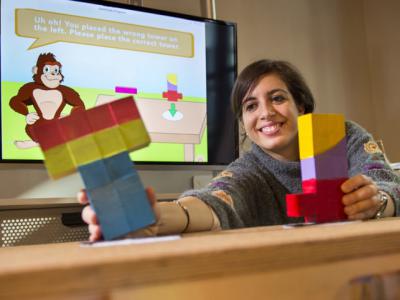 Nesra Yannier, a current Ph.D. candidate in the HCII, recently presented her thesis project to an auditorium full of entrepreneurs, faculty, students, alumni and industry professionals at the 20th Show and Tell event for Project Olympus on Thursday, April 14, 2016. The event, supported by the Center for Innovation and Entrepreneurship (CIE), includes student and faculty start up projects.
This year's event featured six out of many student start-ups, including Yannier's mixed reality educational system – NoRILLA (Novel Research-based Intelligent Lifelong Learning Apparatus).
Yannier, featured in an earlier CMU article on the evolution of education games and game design, launched NoRILLA as part of her thesis work with advisors Ken Koedinger and Scott Hudson. The research behind NoRILLA is inspired by Yannier's desire to reengage children's natural curiosity and encourage them to keep an interest in science, something data suggests 1/3 of students lose interest in as early as the 4th grade.
Yannier's work on NoRILLA was further encouraged by research from the Hechinger Report that found a younger child's knowledge of the physical and social world was more important in predicting future science achievements than the typically emphasized math and reading scores.
Inspired by this, Yannier's research strives to make "little scientists" out of young students, a task that hasn't always been easy in modern day classrooms. A teacher extolled NoRILLA's ability to create a collaborative and engaging learning environment.
"I love that NoRILLA uses technology in such an engaging, communicative and non-isolating way. I'm not a scientist, I'm not a scientist by any stretch of imagination and I love science and I love to teach science, but I feel like I'm limited by own limitations in the science world. To have something like this that supports and backs up and lets the kids and myself all learn together is genius!"
NoRILLA does this by mixing physical and virtual environments in an educational game with a patent-pending technology that gets children thinking like scientist but in an engaging and playful environment. The game asks children to place different physical towers on a platform and predict which tower might fall first when the platform shakes. Yannier's research has shown that this enjoyable and collaborative educational approach improves children's learning by 5 times compared to tablet or computer-based learning systems.
The partnership with local classrooms and the Children's Museum of Pittsburgh was possible through funding opportunities procured by Yannier. She is an Innovation Fellow with the CIE, as well as a recipient of the Spark Grant, Sprout's EdTech Refinery Grant, NSF Innovation Corps and Mister Rogers Memorial Scholarship. As a result of these and other opportunities, Yannier hopes to commercialize her Ph.D. project and bring it outside of the university and into classrooms, museums and other collaborative learning environments.
This is an especially exciting opportunity for Yannier, who draws from her own personal experiences in school as a driving force in her passion to create a more engaging and fun way for students to explore the world around them. "I was a curious student and didn't always get the answers. School focused on memorizing facts, not exploring reasons," Yannier said. Her undergraduate experience working to get under privileged children more excited about education also exposed her to the task of getting children away from too many screens, without losing the advantages of technology.
You can watch NoRILLA in action in these playtesting videos at the Children's Museum and the Montour elementary school classroom study.
To learn more about research from the Human-Computer Interaction Institute, visit our research section.