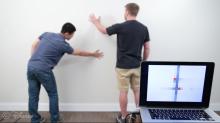 Smart Walls React to Human Touch, Sense Activity in Room
Walls are what they are — big, dull dividers. With a few applications of conductive paint and some electronics, however, walls can become smart infrastructure that sense human touch, and detect things like gestures and when appliances are used.
Researchers at Carnegie Mellon University and Disney Research found that they could transform dumb walls into smart walls at relatively low cost — about $20 per square meter —using simple tools and techniques, such as a paint roller.